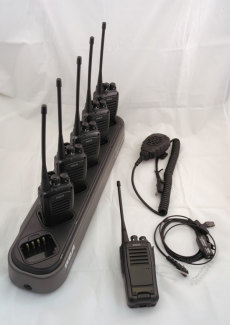 New in rental—a six-pack of RCA BR250 4-channel UHF walkie-talkies with remote speaker-mics, belt clips, spare batteries, and 6-unit charger; all stored in a "grab and go" pelican case with foam dividers.
These radios are fully compatible with our existing 2-unit kits of Motorola CT250 and CP200 radios.
Features include:
Durable design, meeting military specs for shock, dust, moisture, and more
800mW loudspeaker
X-Sound™ technology for clear, low noise communication
Cross-compatibility
Optional speakers or mics including over the head style and "surveillance", or in-ear style are available.
These radio kits are only a small part of our vast inventory of loudspeakers, consoles, wireless systems and everything that comprises a live sound system.
We also stock a wide selection of support items, including walkie-talkies, generators, canopies, folding tables, work lights, and more.
For help with your next rental, please contact our Rental Team at 847.367.9588 or rentals@tcfurlong.com.