Radial JDI Duplex Passive Direct Box Rental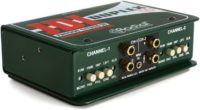 We offer Radial JDI Duplex Passive Direct Box rentals in Chicago, the Chicago suburbs, and nationwide.
If you have any questions about a Radial JDI Duplex Passive Direct Box rental in Chicago, suburban Chicago, or nationwide, or to reserve your rental, contact our Rental Team at 847.367.9588 or rentals@tcfurlong.com.
The Radial JDI Duplex Passive Direct Box is just one of many direct boxes in our rental inventory.
The Radial JDI Duplex is a full-feature, stereo passive direct box designed to enhance connectivity, reduce noise, and simplify the hectic life of the touring professional, broadcast engineer or AV integrator. It is plug-and-play easy to use while delivering the utmost sonic quality.
Like the Radial JDI, the Duplex employs two high-performance Jensen audio transformers with the same pristine audio signal path that has made the JDI the industry standard. It features exceptional signal handling with virtually zero phase shift or harmonic distortion, while remaining linear across the entire audio spectrum. When driven to extremes, the natural transformer saturation and resulting warm Bessel curve makes the Radial Duplex the perfect choice for smoothing out highly dynamic instruments such as digital pianos and electronic drums that can sound harsh when pushed. Transformer isolation provides the additional benefit of eliminating troublesome ground loops that can cause hum and buzz in the audio system or interfere with video displays.
This 'Swiss Army knife' DI is equipped with ¼' connectors for instruments, RCA connectors and a 3.5mm TRS for unbalanced -10dB consumer electronics plus XLR inputs for +4dB professional line sources. Radial's innovative book-end design provides protective zones on the front and rear to keep connectors and switches out of harm's way. The 14 gauge I-beam inner frame adds tremendous rigidity to eliminate outside stresses that could torque the PC board and cause premature solder joint and trace failure. The steel outer shell couples with the transformer's MuMETAL® shield to protect against stray magnetic fields from power transformers or lighting systems that could cause interference. Finally, a full-bottom no-slip pad works double-duty by providing both mechanical and electrical isolation. The Radial Duplex delivers outstanding connectivity, superlative audio and quiet dependable performance.
Features include:
Welded I-beam construction makes it impossible to torque the PC board. This virtually eliminates cold solder joints – the No.1 cause of system failure in the field.
An innovative 'slide-in-place' XLR trace makes it possible to use I-Beam girder construction.
Jensen transformer for distortion-free performance.
A military-grade PC board is employed for maximum wear and tear in abusive environments. Welded steel standoffs ensure the PC board will not shift.
A -15dB pad allows super hot inputs such as that from a CD player to be connected and balanced for long runs.
The Merge function turns the input and thru into a passive mixer to sum stereo feeds to mono at the XLR output. This saves valuable inputs on the mixer!
The input connects to the instrument.
The thru-put is connected to the instrument amplifier. The JDI has a high input impedance to reduce loading.
Our book-end design creates a protective zone around the switches & connectors for best protection!
A heavy-duty baked enamel finish for excellent durability and great looks for years! 100% 14-gauge steel construction.
The XLR balanced mic level output provides 100% isolation for runs to 1000 feet without appreciable noise.
A polarity reverse switch flips the polarity from the AES standard Pin-2 to Pin-3 on the XLR and is used when combining sounds that may be out of phase.
The ground-lift disconnects the ground path to the transformer at the XLR output. This is used when a ground path is made at the input side such as with a keyboard.
The parallel speaker interface option introduces a second -30dB pad with band-pass filter to emulate a 12″ guitar speaker.
A no-slip full bottom pad reduces mechanical vibration, improves electrical isolation and keeps the JDI from moving around on busy stages!
TC Furlong offers Radial JDI Duplex Passive Direct Box rentals alongside several other brands of direct boxes and an extensive rental inventory of professional audio equipment.
Contact the TC Furlong Rental Team today to rent the Radial JDI Duplex Passive Direct Box in Chicago, Suburban Chicago, or nationwide.  If you have any questions about a Radial JDI Duplex Passive Direct Box rental — contact our Rental Team at 847.367.9588 or rentals@tcfurlong.com.
Radial JDI Duplex Passive Direct Box Rental Documentation: