Shure FP12 Headphone Amplifier Rental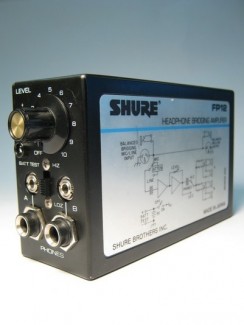 We offer Shure FP12 Headphone Amplifier rentals in Chicago, the Chicago suburbs, and nationwide.
If you have any questions about a Shure FP12 Headphone Amplifier rental in Chicago, suburban Chicago, or nationwide, or to reserve your rental, contact our Rental Team at 847.367.9588 or rentals@tcfurlong.com.
The Shure FP12 Headphone Amplifier is just one of several other brands of headphone accessories in our rental inventory.
The FP12 is an in-line, battery-powered amplifier designed to accept a microphone- or line-level signal, bridge it, and produce a signal sufficient to drive headphones at very loud levels. The FP12 is ideal for anyone in the broadcasting, sound reinforcement or audio recording fields who has a need for headphone monitoring or checking microphone- or line-level cable runs. In addition, the FP12 can be used to provide multiple headphone feeds, a two-station intercom, extra power for existing headphone circuits, or a means of practicing electronic instrument through headphones.
The FP12 Features:
Wide-range frequency response

Low input noise and harmonic distortion
High-impedance bridging input does not load signal source
Switchable microphone- and line-level inputs
Switchable low- and high-impedance headphone outputs
Parallel 3-circuit phone and miniature (3.5 mm) headphone jacks
Balanced loop-through locking XLR connectors and phone jacks
Powered by easily obtainable 9V alkaline battery
Low current drain for extended battery life
Rugged construction, with durable belt clip for field use
Low susceptibility to radio-frequency interference
TC Furlong offers Shure FP12 Headphone Amplifier rentals alongside several other headphone accessories and an extensive rental inventory of professional audio equipment.
Contact the TC Furlong Rental Team today to rent the Shure FP12 Headphone Amplifier in Chicago, Suburban Chicago, or nationwide, at 847.367.9588 or rentals@tcfurlong.com.
Shure FP12 Headphone Amplifier Rental Documentation: