EAW JF80 Loudspeaker Rental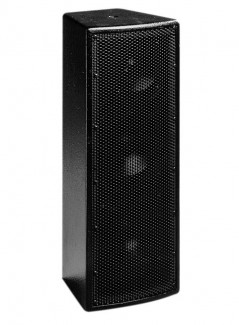 We offer EAW JF80 rentals in Chicago, the Chicago suburbs, and nationwide.
If you have any questions about a EAW JF80 loudspeaker rental in Chicago, suburban Chicago, or nationwide, or to reserve your rental, contact our Rental Team at 847.367.9588 or rentals@tcfurlong.com.
The EAW JF80 is just one of many loudspeakers in our rental inventory.
The EAW JF80 is a 2-way full range system (passive LF/HF crossover) in a compact vented trapezoidal enclosure. Includes 2x 6.5″ woofers and a 1″ exit compression driver on a Wave Guide Plate. The JF80 is engineered for exceptional performance in the nearfield from a compact enclosure. Surprisingly high output, exceptional fidelity. Very effective as a fill/delay elements in larger overall systems or for foreground/background music reproduction.
Applications include:
Band PA
MultiMedia
Small Retail Spaces
Presentation Suite
Small Houses of Worship
Theaters
Features:
Recommended amplifier power- 460 W (8 ohms)
Frequency response- 85 Hz to 18 kHz (+/- 3 dB)
Coverage pattern- 100 degrees horizontal, 80 degrees vertical
Maximum SPL- 120 dB
21″ X 8″ X 10″
25 lbs.
TC Furlong offers EAW JF80 loudspeaker rentals alongside many other loudspeakers and an extensive rental inventory of professional audio equipment.
Contact the TC Furlong Rental Team today to rent the EAW JF80 loudspeaker in Chicago, Suburban Chicago, or nationwide, at 847.367.9588 or rentals@tcfurlong.com.
EAW JF80 Rental Documentation: