Galaxy PA5x140 Personal Monitor Loudspeaker Rental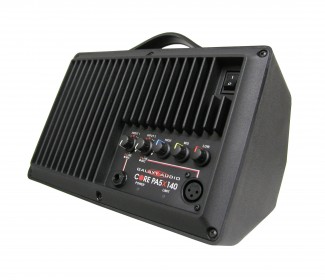 We offer Galaxy PA5x140 rentals in Chicago, the Chicago suburbs, and nationwide.
If you have any questions about a Galaxy PA5x140 loudspeaker rental in Chicago, suburban Chicago, or nationwide, or to reserve your rental, contact our Rental Team at 847.367.9588 or rentals@tcfurlong.com.
The Galaxy PA5x140 is just one of many loudspeakers in our rental inventory.
Never before has so much power been packed into a complete sound system that's smaller than a shoe box and weighs only 13 pounds. The CORE PA5X140 produces a ground shaking 146 watts (at 4 ohms), enough to power its internal speaker and two Galaxy Audio HOT SPOT Personal Moitors. Its 114 dB maximum sound pressure level is louder than most systems many times its size. It features a ¼-inch input, an XLR input, a three band equalizer, and one of Galaxy's legendary ferro fluid cooled five-inch drivers with a 40-ounce magnet structure. A frequency response of 200 Hz to 18 kHz and 98 dB (1 watt/1 meter) sensitivity ensure that the PA5X140 delivers incredible intelligibility and superior gain before feedback and can cut through the most extreme ambient noise levels. Its cabinet is constructed of black, fire-retardant styrene with a black cast aluminum faceplate/grille. An integral adaptor allows the PA5X140 to be mounted on a microphone stand. Positioned in close proximity to the performer, the PA5X140 is louder, more direct, and less likely to cause feedback than a conventional floor monitor. And as a one-piece PA sysytem nothing else its
size and weight can approach its power and volume.
Power Output: 100 watts @ 8 ohms (typically 146 watts @ 4 ohms).
Distortion: 8 ohm <0.05% THD 4 Ohm <0.1% THD
Minimum Recommended Load Impedance: 4 ohms
Frequency response: 200 Hz–20 kHz
Equalization: Three band center detent
Lo: ± 12 dB peak/dip at 300 Hz
Mid: ± 12 dB peak/dip at 2 kHz
Hi: ± 12 dB peak/dip at 10 kHz
Input connections (each with individual volume control):
One ¼-inch, balanced
One XLR, balanced, with +24 VDC phantom power
Output connections:
One ¼-inch speaker level for minimum 8 ohm load.
One (post-EQ, post-level) RCA line out
TC Furlong offers Galaxy PA5x140 loudspeaker rentals alongside many other loudspeakers and an extensive rental inventory of professional audio equipment.
Contact the TC Furlong Rental Team today to rent the Galaxy PA5x140 loudspeaker in Chicago, Suburban Chicago, or nationwide, at 847.367.9588 or rentals@tcfurlong.com.
Galaxy PA5x140 Rental Documentation: