KV2 Audio EX2.2 Loudspeaker Rental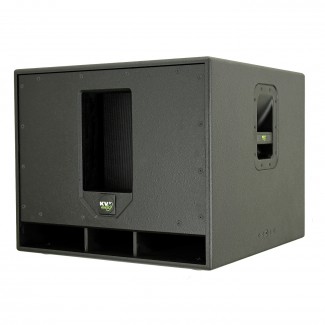 We offer KV2 Audio EX2.2 rentals in Chicago, the Chicago suburbs, and nationwide.
If you have any questions about a KV2 Audio EX2.2 rental in Chicago, suburban Chicago, or nationwide, or to reserve your rental, contact our Rental Team at 847.367.9588 or rentals@tcfurlong.com.
The KV2 Audio EX2.2 is just one of many loudspeakers in our rental inventory.
The KV2 EX2.2 is a double 12", compact, active subwoofer system.  On-board electronics include a stereo crossover with High Pass outputs and full overdrive protection featuring KV2 Audio's High efficiency, Current-enhancing switch mode amplifier.  Precision manufactured woofer designs and a high efficiency, twin chamber acoustic design delivers tight, fast, controlled bass response at very high output levels from a small cabinet footprint.
Professional, Baltic birch construction with wear resistant polymer coating.
130dB sustained output, 133dB peak.
1000W high efficiency, current-enhancing, switching, low frequency amplifier.
Complete on board subwoofer management including equalization, crossover filters, amplifier overdrive protection, output level and phase controls.
Excellent reproduction of bass frequencies with high transient content at high output levels.
Stereo or Mono inputs with through signal outputs and 125Hz High Pass outputs.
Two 12" high output, low frequency drivers with 3" (75mm) inside/outside, epoxy baked, high temperature, voice coil assembly and neodymium magnetic structures.
Two recessed side handles for simplified handling and carrying.
Acetyl copolymer, high impact, low friction feet are located on two sides allowing lock-in and easy cabinet movement.
Two internal corner braces with four M10 suspension points.
M20 top hat for pole mounting applications.
LED indicators for signal present, limiter, thermal condition and power ON status.
TC Furlong offers KV2 Audio EX2.2 rentals alongside many other loudspeakers and an extensive rental inventory of professional audio equipment.
Contact the TC Furlong Rental Team today to rent the KV2 Audio EX2.2 in Chicago, Suburban Chicago, or nationwide, at 847.367.9588 or rentals@tcfurlong.com.
KV2 Audio EX2.2 Rental Documentation: