Meyer Sound 700-HP Subwoofer Rental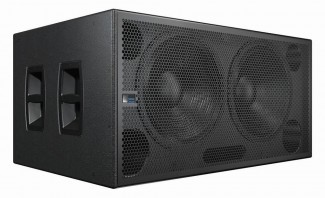 We offer Meyer Sound 700-HP rentals in Chicago, the Chicago suburbs, and nationwide.
If you have any questions about a Meyer Sound 700-HP subwoofer rental in Chicago, suburban Chicago, or nationwide, or to reserve your rental, contact our Rental Team at 847.367.9588 or rentals@tcfurlong.com.
The Meyer Sound 700-HP is just one of many loudspeakers in our rental inventory.
The Meyer Sound 700-HP ultrahigh-power subwoofer sets a new standard for the power-to-size equation. The 700-HP's power and bandwidth handle high continuous operating levels and extreme transient information with minimal distortion in its operating frequency range.
Meyer Sound's rigorous design approach has been applied to extract the greatest efficiency from every part of the system, resulting in the 700-HP's effortless reproduction of low frequency transient information. As a self-powered system, the transducers, amplification and control electronics of the 700-HP are created as a symbiotic system that optimizes performance and maximizes its tremendous power.
The operating frequency range of 28 Hz to 150 Hz complements other Meyer Sound loudspeakers and line and curvilinear arrays in sound reinforcement applications requiring maximum headroom at the low end of the frequency spectrum.
The 700-HP's efficiently tuned cabinet houses two Meyer Sound-designed and -manufactured back-vented, long-excursion, 18-inch cone drivers. Each driver features a 4-inch voice coil and is rated to handle 1200 AES watts. The drivers have also been engineered for extreme efficiency, using high-gauss neodymium magnets for the most powerful magnetic field strength. High magnetic field strength increases the driver's sensitivity, which yields greater output, while keeping heat dissipation requirements within operational tolerances.
An integral two-channel class AB/H amplifier with complementary MOSFET output stages supplies total peak power of 2250 watts (1125 watts per channel). With twice the amplifier power of the 650-P subwoofer, the 700-HP produces an average of 3 dB more overall SPL, with enormous headroom to accommodate the most extreme demands with ease. Recent tests conducted by Meyer Sound show the 700-HP producing significantly higher output than other "high-power" subwoofers.
Output power- 2250 W (1125 W/channel)
Operating frequency range- 28 Hz – 150 Hz
High peak power yields excellent transient reproduction
Extremely low distortion for ultimate low-frequency clarity
Exceptionally reliable and durable
Arrayable in blocks to attain very high SPL with long throw
TC Furlong offers Meyer Sound 700-HP subwoofer rentals alongside many other loudspeakers and an extensive rental inventory of professional audio equipment.
Contact the TC Furlong Rental Team today to rent the Meyer Sound 700-HP subwoofer in Chicago, Suburban Chicago, or nationwide.
Meyer Sound 700-HP Rental Documentation:
Meyer Sound 700-HP Rental Manual (PDF)