Meyer Sound CQ-2 Loudspeaker Rental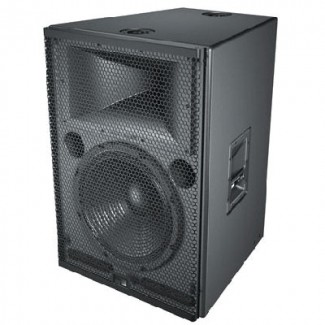 We offer Meyer Sound CQ-2 rentals in Chicago, the Chicago suburbs, and nationwide.
If you have any questions about a Meyer Sound CQ-2 loudspeaker rental in Chicago, suburban Chicago, or nationwide, or to reserve your rental, contact our Rental Team at 847.367.9588 or rentals@tcfurlong.com.
The Meyer Sound CQ-2 is just one of many loudspeakers in our rental inventory.
The Meyer Sound CQ-2 narrow coverage main is a self-powered, phase-corrected reinforcement loudspeaker offering precise, high-Q coverage. The CQ-2 features a patented constant-Q horn design — the result of extensive research using Meyer Sound Sound's calibrated anechoic chamber. The frequency response of 40 Hz to 16 kHz is uniform over the entire coverage area in both the horizontal and vertical axes, with no side lobes even when measured at a one-sixth octave frequency resolution.
The CQ-2 loudspeaker's unique combination of arrayability, precise pattern control, compact size, low distortion and high power make it suitable for a wide variety of installed and rental applications. As stand- alone or in arrays, the CQ-2 is perfect as the main PA in small to mid-sized auditoriums, houses of worship, clubs and hotel ballroom settings, and is highly effective in delayed fill applications for arenas and outdoor concert systems.
The CQ-2 loudspeaker's low-frequency section comprises a single 15-inch Meyer Sound Sound cone driver, and the high-frequency section utilizes a 4-inch diaphragm compression driver coupled to a 50-degree by 40-degree constant-Q horn.
Output power- 1240 W (620 W/channel)
Coverage pattern- 50 degree Horizontal, 40 degree vertical
Extremely smooth horizontal pattern for consistent sound
Ultra-low distortion and flat response yield remarkable fidelity
Extraordinarily flat amplitude and phase response for tonal accuracy and precise imaging
Extended low-frequency response for stand-alone applications
Constant-Q horn affords uniform response throughout the coverage area
Predictable performance ensures system design flexibility
TC Furlong offers Meyer Sound CQ-2 loudspeaker rentals alongside many other loudspeakers and an extensive rental inventory of professional audio equipment.
Contact the TC Furlong Rental Team today to rent the Meyer Sound CQ-2 loudspeaker in Chicago, Suburban Chicago, or nationwide.
Meyer Sound CQ-2 Rental Documentation:
Meyer Sound CQ-2 Rental Manual (PDF)