Meyer Sound DS-4P Loudspeaker Rental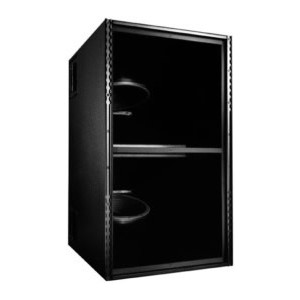 We offer Meyer Sound DS-4P rentals in Chicago, the Chicago suburbs, and nationwide.
If you have any questions about a Meyer Sound DS-4P loudspeaker rental in Chicago, suburban Chicago, or nationwide, or to reserve your rental, contact our Rental Team at 847.367.9588 or rentals@tcfurlong.com.
The Meyer Sound DS-4P is just one of many loudspeakers in our rental inventory.
The Meyer Sound DS-4P is an arrayable, self-powered mid-bass loudspeaker that provides high power with extremely low distortion.
Developed to supplement the 70 to 200 Hz band in full-range systems, the DS-4P affords additional mid-bass headroom with enhanced directional control. Housing two of Meyer Sound's rugged 12-inch drivers in a true horn enclosure, the DS-4P provides maximum energy transfer in the mid-bands with minimum frequency response ripple. The DS-4P is most effective when used in multiples within an array and, because it shares the same cabinet "footprint" as the MSL-4, incorporates easily into MSL-4 arrays.
The DS-4P incorporates a two-channel class AB/H power amplifier with complementary power MOSFET output stages and a peak power rating of 1240 watts (620 watts per channel). The integral electronics module also features Meyer Sound's proprietary phase-corrected active processing circuits and driver protection voltage limiters to ensure exceptional performance and reliability. A laser-trimmed differential input stage affords superior common-mode rejection to allow signal runs using shielded, twisted-pair cable. The integral power supply suppresses high voltage transients and incorporates Meyer Sound's Intelligent AC system for automatic voltage selection (allowing worry-free worldwide operation), EMI filtering, soft current turn-on and surge suppression.
Output power- 1240 W (620 W/channel)
Coverage pattern- 120 degree Horizontal, 120 degree vertical
High peak power yields excellent transient reproduction
Extremely low distortion for ultimate low-frequency clarity
Exceptionally reliable and durable
Arrayable in blocks to attain very high SPL with long throw
TC Furlong offers Meyer Sound DS-4P loudspeaker rentals alongside many other loudspeakers and an extensive rental inventory of professional audio equipment.
Contact the TC Furlong Rental Team today to rent the Meyer Sound DS-4P loudspeaker in Chicago, Suburban Chicago, or nationwide.
Meyer Sound DS-4P Rental Documentation:
Meyer Sound DS-4P Rental Manual (PDF)