Meyer Sound MJF-212A Loudspeaker Rental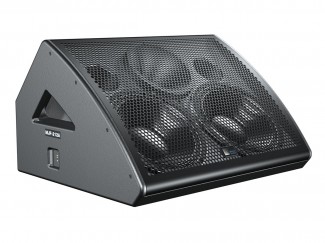 We offer Meyer Sound MJF-212A rentals in Chicago, the Chicago suburbs, and nationwide.
If you have any questions about a Meyer Sound MJF-212A loudspeaker rental in Chicago, suburban Chicago, or nationwide, or to reserve your rental, contact our Rental Team at 847.367.9588 or rentals@tcfurlong.com.
The Meyer Sound MJF-212A is just one of many loudspeakers in our rental inventory.
The Meyer Sound MJF-212A is a self-powered stage monitor loudspeaker designed to meet critical requirements in professional applications. Exhibiting flat amplitude and phase responses, full-range bandwidth, and exceptional impulse response, the MJF-212A far exceeds the capabilities of conventional stage monitors while offering the simplicity of setup and operation provided by self-powered systems.
The MJF-212A monitor's phase-corrected frequency range of 55 Hz to 18 kHz enables accurate reproduction of both vocals and instruments with high gain before feedback, and provides excellent intelligibility at high output levels with low distortion and no coloration added to the signal. The MJF-212A is also engineered to have exceptional low-frequency headroom, which can be helpful in some applications such as the extreme lowfrequency demands of high-level drum monitoring. The face of the low-profile cabinet slopes at 40 degrees from the stage to permit optimal placement relative to the talent, while its medium-Q horn provides even coverage in both the horizontal and vertical planes.
The loudspeaker's high-frequency section comprises a 4-inch diaphragm compression driver coupled to a symmetrical (50 degrees horizontal by 50 degrees vertical) constant directivity horn. A pair of high-power 12-inch neodymium magnet cone drivers with 4-inch voice coils, mounted in an optimally vented enclosure, reproduces low frequencies.
Each driver is powered by one channel of a three-channel class AB/H amplifier that employs complementary power MOSFET output stages to provide total burst output of 1275 watts (2 x 500 watts, 1 x 275 watts), 2550 watts total peak. The MJF-212A incorporates Meyer Sound's Intelligent AC system for automatic voltage selection, EMI filtering, soft current turn-on, and surge suppression.
The cabinet is constructed from premium birch plywood and coated with a durable, textured black finish. A metal grille lined with acoustical black mesh protects the drivers. The rugged MJF-212A includes plastic skids on the bottom of the unit to prevent damage to the enclosure or stage floor.
The MJF-212A can be integrated into Meyer Sound's RMS remote monitoring system with the addition of an optional module. RMS is a Windows-based computer application for monitoring the full-range of amplifier and limiter operating parameters.
Output power- 1275 W
Coverage pattern- 50 degrees symmetrical
High peak power ensures excellent transient response
Flat frequency and phase responses afford high levels of gain before feedback
Low profile preserves sightlines
Symmetrical, medium-Q pattern provides even coverage
TC Furlong offers Meyer Sound MJF-212A loudspeaker rentals alongside many other loudspeakers and an extensive rental inventory of professional audio equipment.
Contact the TC Furlong Rental Team today to rent the Meyer Sound MJF-212A loudspeaker in Chicago, Suburban Chicago, or nationwide.
Meyer Sound MJF-212A Rental Documentation:
Meyer Sound MJF-212A Rental Manual (PDF)