Audix OM5 Dynamic Microphone Rental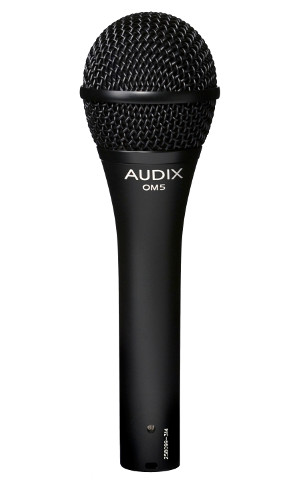 We offer Audix OM5 rentals in Chicago, the Chicago suburbs, and nationwide.
If you have any questions about a Audix OM5 rental in Chicago, suburban Chicago, or nationwide, or to reserve your rental, contact our Rental Team at 847.367.9588 or rentals@tcfurlong.com.
The Audix OM5 is just one of hundreds of wired microphones in our rental inventory.
All OM5 rentals include stands, mic clips, and cables.
The Audix OM5 is made with an extremely tight and uniformly controlled hypercardioid polar pattern which isolates the vocals from the rest of the instruments on stage or in a studio.
Used on stage, in studios and for broadcast applications, the OM5 has a reputation for clarity, resistance to feedback and ability to handle SPLs in excess of 144 dB without distortion.
The OM5 is naturally attenuated at 120 Hz to reduce boominess and handling noise. The mid-range is tailored to provide extra presence in the vocals allowing the vocalist to be easily heard through the main speakers as well as the monitors.
Clear, accurate vocal reproduction
Handles high SPL without distortion
Low handling noise
Provides exceptional gain before feedback
Provides maximum vocal isolation on stage
Dent resistant spring steel grill
TC Furlong offers Audix OM5 rentals alongside hundreds of wired microphone rentals and an extensive rental inventory of professional audio equipment.
Contact the TC Furlong Rental Team today to rent the Audix OM5 in Chicago, suburban Chicago, or nationwide.
Audix OM5 Rental Documentation: