Earthworks PM40T Piano Condenser Microphone Rental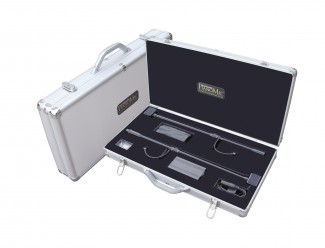 We offer Earthworks PM40T rentals in Chicago, the Chicago suburbs, and nationwide.
If you have any questions about a Earthworks PM40T rental in Chicago, suburban Chicago, or nationwide, or to reserve your rental, contact our Rental Team at 847.367.9588 or rentals@tcfurlong.com.
The Earthworks PM40T is just one of hundreds of wired microphones in our rental inventory.
All Earthworks PM40T rentals include stands, mic clips, and cables.
The PM40T Touring PianoMic System, offering the features and sonic performance of our PM40 PianoMic System while offering quick, simple, and easy setup, in a compact airline friendly carry-on case.
The PianoMic System was designed to revolutionize piano miking and achieve an incredible improvement in piano sound for live and recording applications with no mic stands or booms. There is more gain before feedback, significantly less leakage from surrounding instruments and the same pristine sound quality with the piano lid either up or down. At the heart of the system are two Random Incidence, omnidirectional, 40 kHz High Definition Microphones. With a frequency response of 4 Hz to 40 kHz, the mics deliver extraordinary impulse response and extremely short diaphragm setting times. In addition, the microphones exhibit no proximity effect, regardless of their distance from the piano strings or soundboard. The mics, when positioned close to the sound source, also provide incredible gain before feedback.
Touring Model
Cannot be seen from outside of the piano (needs no stands or mic booms)
Superb sound with the piano lid either up or down
Virtually no leakage from sounds outside the piano
Incredible gain before feedback
Recording studios can now record piano with other instruments in the same room
Handles sound pressure levels up to 148dB
Incredible gain before feedback
Quick, Simple and Easy Setup
40kHz Random Incidence Omnis
Hear the full range of the piano including the high and low strings with no hot spots
The telescoping bar allows the PianoMic to be quickly and easily installed in nearly all grand pianos and to place the microphones close to or away from the dampers and get the exact sound desired
TC Furlong offers Earthworks PM40T rentals alongside hundreds of wired microphone rentals and an extensive rental inventory of professional audio equipment.
Contact the TC Furlong Rental Team today to rent the Earthworks PM40T in Chicago, Suburban Chicago, or nationwide, at 847.367.9588 or rentals@tcfurlong.com.
Earthworks PM40T Rental Documentation: