Sennheiser e901 Condenser Microphone Rental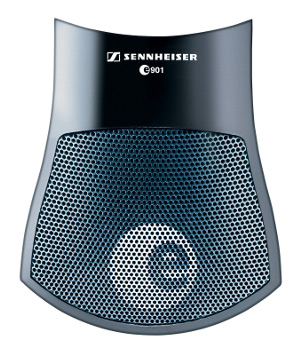 We offer Sennheiser e901 rentals in Chicago, the Chicago suburbs, and nationwide.
If you have any questions about a Sennheiser e901 rental in Chicago, suburban Chicago, or nationwide, or to reserve your rental, contact our Rental Team at 847.367.9588 or rentals@tcfurlong.com.
The Sennheiser e901 is just one of hundreds of wired microphones in our rental inventory.
All Sennheiser e901 rentals include cables.
The Sennheiser e901 is a high-quality pre-polarised condenser microphone with half-cardioid pick-up pattern, especially suitable for use with kick drums. The extremely thin, high-strength diaphragm delivers a very low bass response and fast transient signals. Incidental rear noise is effectively rejected.
The e901 boundary microphone has so many applications: conference tables, podiums and altars, theatrical stages, right on to pianos and percussion instruments. Its 20Hz-20kHz frequency response means it will provide full-bodied reproduction of voice and music. The e901 is ruggedly constructed, with a slip-free rubber pad underneath so it will stay put and the built-in XLR plug means you don't need a special cable!
Frequency response tailored for kick drum miking
Fast attack
Very dry and precise low-bass response
Extremely rugged sound inlet basket
Rubber damping plate on base
Gold-plated XLR connector
Integrated pre-amplifier
TC Furlong offers Sennheiser e901 rentals alongside hundreds of wired microphone rentals and an extensive rental inventory of professional audio equipment.
Contact the TC Furlong Rental Team today to rent the Sennheiser e901 in Chicago, Suburban Chicago, or nationwide.
Sennheiser e901 Rental Documentation:
Sennheiser e901 Rental Manual (PDF)