Shure Beta 98AMP Condenser Microphone Rental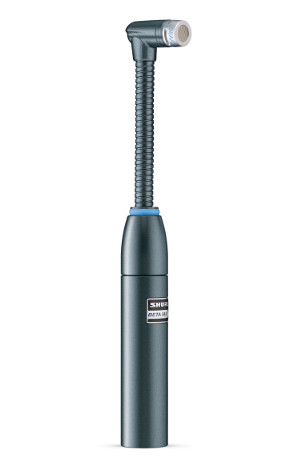 We offer Shure Beta 98AMP rentals in Chicago, the Chicago suburbs, and nationwide.
If you have any questions about a Shure Beta 98AMP rental in Chicago, suburban Chicago, or nationwide, or to reserve your rental, contact our Rental Team at 847.367.9588 or rentals@tcfurlong.com.
The Shure Beta 98AMP is just one of hundreds of wired microphones in our rental inventory.
All Beta 98AMP rentals include stands, mic clips, and cables.
The Shure Beta 98AMP is a precision-engineered miniature cardioid condenser microphone for professional sound reinforcement and studio recording. Features an integrated XLR preamplifier with a flexible gooseneck and the A75M Universal Microphone Mount for accurate placement in any configuration of toms, snares, or percussion. An extremely uniform cardioid polar pattern provides excellent gain-before-feedback, off-axis rejection of unwanted noise, and high maximum sound pressure level (SPL).
Uniform cardioid polar pattern provides maximum gain-before-feedback and rejection of off-axis sound for smooth high-end response and control
Precision-engineered design features integrated preamplifier and XLR connector to maximize setup efficiency while minimizing stage clutter
Frequency response tailored for drums and percussion applications with a wide dynamic range for use in high SPL environments
Flexible gooseneck for precise placement and easy adjustment
Ships with A75M Universal Microphone mount with quick release, for versatile and secure instrument and/or stand mounting
Furnished with snap-fit windscreen and zipper pouch
TC Furlong offers Shure Beta 98AMP rentals alongside hundreds of wired microphone rentals and an extensive rental inventory of professional audio equipment.
Contact the TC Furlong Rental Team today to rent the Shure Beta 98AMP in Chicago, suburban Chicago, or nationwide.
Shure Beta 98AMP Rental Documentation: