Shure KSM8 Dualdyne Dynamic Microphone Rental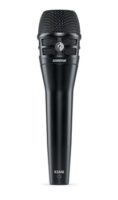 We offer Shure KSM8 Dualdyne rentals in Chicago, the Chicago suburbs, and nationwide.
If you have any questions about a Shure KSM8 Dualdyne rental in Chicago, suburban Chicago, or nationwide, or to reserve your rental, contact our Rental Team at 847.367.9588 or rentals@tcfurlong.com.
The Shure KSM8 Dualdyne is just one of hundreds of wired microphones in our rental inventory.
All KSM8 Dualdyne rentals include stands, mic clips, and cables.
The Shure KSM8 Dualdyne is a premium dynamic vocal microphone that captures vocal subtlety with extraordinary detail to deliver clear articulation, functional flexibility, and precise vocal reproduction for live performance.
With two ultra-thin diaphragms and groundbreaking reverse airflow technology, the KSM8 Dualdyne delivers unmatched control of proximity effect, presence peaks, and bleed and requires minimal EQ and processing.
Some features include:
Patented cartridge design features two ultra-thin diaphragms (one active and one passive) and a groundbreaking inverted airflow system
Exceptional control of proximity effect greatly increases working distance without on-axis coloration
Neutral mid- and high-frequency reproduction due to controlled proximity effect results in the most natural-sounding dynamic microphone available
Neodymium magnet resides in a micro-injection mold of aerospace SoftMag material, maximizing the magnetic field for the highest output level
Re-imagined Shure Pumping Pneumatic Shock Mount features tuned cavities, specific resistances, and precisely machined components fully integrated into the cartridge's acoustic properties, delivering exceptional rejection of handling noise without any loss of low-frequency response
Patent-pending Diaphragm Stabilization System technology protects and stabilizes the active diaphragm from unwanted movement from plosives or impact
Dent-resistant, hardened carbon-steel grille design lined with hydrophobic woven fabric provides exceptional water, plosive and wind protection
TC Furlong offers Shure KSM8 Dualdyne rentals alongside hundreds of wired microphone rentals and an extensive rental inventory of professional audio equipment.
Contact the TC Furlong Rental Team today to rent the Shure KSM8 Dualdyne in Chicago, Suburban Chicago, or nationwide.
Shure KSM8 Dualdyne Rental Documentation:
Shure KSM8 Rental User Guide (PDF)