Shure SM77 Dynamic Microphone Rental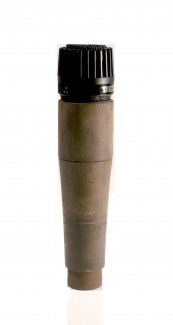 We offer Shure SM77 rentals in Chicago, the Chicago suburbs, and nationwide.
If you have any questions about a Shure SM77 rental in Chicago, suburban Chicago, or nationwide, or to reserve your rental, contact our Rental Team at 847.367.9588 or rentals@tcfurlong.com.
The Shure SM77 is just one of hundreds of wired microphones in our rental inventory.
All SM77 rentals include stands, mic clips, and cables.
The Shure SM77 STARMAKER microphone is a small, lightweight, extremely rugged dynamic unit with a cardioid (unidirectional) pickup pattern and a smooth, wide frequency response. The microphone is available in ebony vinyl enamel finish. Because of the feedback rejection of the SM77 cardioid pickup pattern, the microphone is suitable for sound reinforcement applications or other uses where room acoustics or ambient noise is a problem as well as for handheld or stand mounted use in broadcast and recording studios. The microphone can be used for voice or instrument pickup, and for closeup vocals with the pop protection of the accessory windscreen. The microphone has a tailored low-frequency rolloff and a gentle mid-frequency presence peak to enhance intelligibility of speech and singing.
Uniform cardioid pickup pattern for excellent suppression of feedback and rejection of ambient room noise
Suitable for recording studio, broadcast, or sound reinforcement use
Small, lightweight, and extremely rugged with shock mounted cartridge for quiet operation
Can be handheld or stand mounted-all models supplied with accessory slip-in swivel adapter
Attractive black vinyl enamel finish is durable and easy to clean
Accessory windscreen available for pop protection outdoors or in closeup use
Frequency response: 50 to 15,000 Hz
This microphone is very similar to the venerable Shure SM57, but is transformerless, which gives this microphone a smoother character than a SM57
TC Furlong offers Shure SM77 rentals alongside hundreds of wired microphone rentals and an extensive rental inventory of professional audio equipment.
Contact the TC Furlong Rental Team today to rent the Shure SM77 in Chicago, Suburban Chicago, or nationwide.
Shure SM77 Rental Documentation: