Shure SM85 Condenser Microphone Rental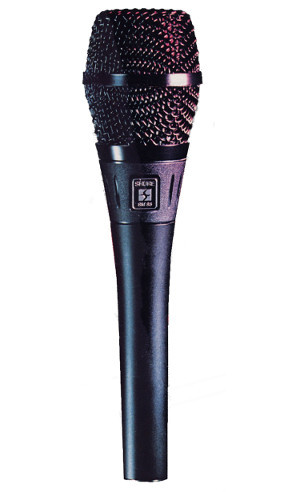 We offer Shure SM85 rentals in Chicago, the Chicago suburbs, and nationwide.
If you have any questions about a Shure SM85 rental in Chicago, suburban Chicago, or nationwide, or to reserve your rental, contact our Rental Team at 847.367.9588 or rentals@tcfurlong.com.
The Shure SM85 is just one of hundreds of wired microphones in our rental inventory.
All SM85 rentals include stands, mic clips, and cables.
The Shure Model SM85 is a professional-quality, hand-held, unidirectional condenser microphone designed for the most demanding applications in sound reinforcement, broadcasting and studio recording. It is especially suitable for applications requiring wide frequency response, low distortion characteristics, very low RF susceptibility, and reliable operation over a wide range of temperature and humidity extremes.
The SM85 makes optimum use of proximity effect to give the performer control of low-frequency sound, from the warm intimacy of close miking to the natural sounds of normal-to-distant miking. The SM85 also features an integral wind and pop filter, a high-frequency presence peak, a controlled low-frequency rolloff, and an effective shock mount for reduced stand and handling noise. The case is constructed of aluminum for light weight and ruggedness, with a steel grille and durable black finish.
Wide-range frequency response tailored for professional vocal applications
Built-in wind and pop filter minimizes undesirable wind and breath sounds
Controlled low-frequency rolloff to reduce low-frequency handling noise and compensate for proximity effect
Transducer element shock-mounted for reduced stand and handling noise
Low distortion output and wide dynamic range characteristics for a variety of load impedances
Cardioid polar pattern, uniform with frequency and symmetrical about axis, to provide maximum rejection and minimum coloration of off-axis sounds
Very low RF and magnetic hum susceptibility
Wide-range simplex powering includes DIN 45 596 voltages of 12 and 48 Vdc
Rugged construction for outstanding reliability
Field-usable over wide range of temperature and humidity conditions
TC Furlong offers Shure SM85 rentals alongside hundreds of wired microphone rentals and an extensive rental inventory of professional audio equipment.
Contact the TC Furlong Rental Team today to rent the Shure SM85 in Chicago, Suburban Chicago, or nationwide.
Shure SM85 Rental Documentation: