Shure SM98 Condenser Microphone Rental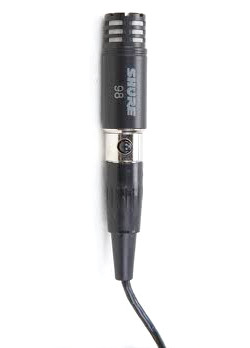 We offer Shure SM98 rentals in Chicago, the Chicago suburbs, and nationwide.
If you have any questions about a Shure SM98 rental in Chicago, suburban Chicago, or nationwide, or to reserve your rental, contact our Rental Team at 847.367.9588 or rentals@tcfurlong.com.
The Shure SM98 is just one of hundreds of wired microphones in our rental inventory.
All SM98 rentals include stands, mic clips, and cables.
The SM98 is a miniature electret condenser microphone with a unidirectional (cardioid) pickup pattern. A smooth wide frequency response from 40 to 20,000 Hz allows the microphone to be extremely well adapted to pick up all kinds of musical instruments. A detachable 4.6m (15 ft) cable with Switchcraft Tini Q.G. connectors and a battery or simplex (phantom) powered preamplifier are supplied with the microphone. A windscreen is provided for outdoor use, and a swivel adapter is supplied for conventional microphone stand or goose neck mounting.
The unidirectional pattern of the SM98 discriminates against sounds coming from the rear, permitting higher gain before feedback in sound reinforcement applications. Because of its uniform cardioid pattern extending out to 20,000 Hz, the microphone can be used for pickup of a particular instrument in an ensemble or orchestra, minimizing the need for isolation booths or barriers. A very high maximum sound pressure level allows use of the SM98 with all acoustic instruments including drum kits and other percussion as well as brass, reed, wind, string, and keyboard instruments. The SM98 can also be used with amplified guitars and keyboards.
The low-distortion, high-clipping-level preamplifier provides switch-selectable Flat or Low-Cut response to suit pickup characteristics needed for various instruments. The Low-Cut position is also useful when it is necessary to filter out low-frequency noise from such sources as wind noise or air conditioning equipment.
The SM98 is powered either by two readily available 9-volt alkaline batteries (300 hours continuous battery life) or by an 11-to-52 Vdc simplex (phantom) supply from sound reinforcement, recording or broadcast equipment. The preamp is designed so that the battery supply will automatically switch in should the simplex power fail. However, no battery drain will occur as long as the simplex voltage exceeds the battery voltage.
Smooth wide response for accurate sound reproduction across the entire audio spectrum
Symmetrical cardioid pattern, uniform with frequency out to 20 kHz, maximizes gain before feedback, minimizes need for isolation when picking up single instruments out of a group
Switch-selectable 12 dB/octave low-frequency cutoff permits tailoring response to suit particular instruments or room conditions
Very high SPL capability
Very low distortion and high output clipping level
Battery or simplex (phantom) powering: uses standard 9-volt alkaline batteries; accepts wide range of simplex voltages, from 11 to 52 Vdc
Low susceptibility to RFI, electrostatic and electromagnetic hum
Rugged construction of microphone and preamplifier for outstanding reliability
Detachable cable at both microphone and preamplifier
Usable over very wide range of temperature and humidity
TC Furlong offers Shure SM98 rentals alongside hundreds of wired microphone rentals and an extensive rental inventory of professional audio equipment.
Contact the TC Furlong Rental Team today to rent the Shure SM98 in Chicago, Suburban Chicago, or nationwide.
Shure SM98 Rental Documentation: