Shure WL93 Lavalier Microphone Rental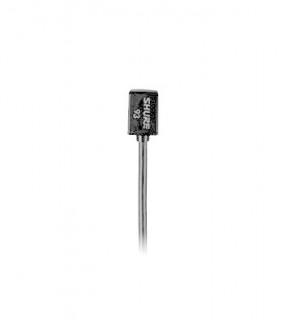 We offer Shure WL93 Lavalier rentals in Chicago, the Chicago suburbs, and nationwide.
If you have any questions about a Shure WL93 Lavalier rental in Chicago, suburban Chicago, or nationwide, or to reserve your rental, contact our Rental Team at 847.367.9588 or rentals@tcfurlong.com.
The Shure WL93 Lavalier is just one of hundreds of microphones in our rental inventory.
Model WL93 Microphones are economical omnidirectional, subminiature, lavalier, condenser microphones designed for general speech applications where a visually unobtrusive microphone is desirable.
All WL93 models are supplied with a mounting block with attached tie bar, a sew-on mounting bracket, and an acoustic windscreen to minimize wind noise in outdoor applications.
All WL93 models include a cable terminated with a 4-pin mini connector which connects directly to a Shure wireless body-pack transmitter.
Subminiature lavalier design; ideal size for theater, television, broadcasting, video, film, and sound reinforcement
Small, inconspicuous mounting hardware
Full, clear sound comparable to larger microphones
Smooth extended frequency response with presence rise specially tailored for chest-worn microphone operation
Controlled low-frequency rolloff reduces low-frequency clothing and room noise
Low distortion, wide dynamic range
Uniform omnidirectional polar pattern
Preamplifier assembly (SM93) can be pocketed, strapped to the body, or clipped to belt or waistband
Wide-range phantom powering (SM93) accepts all commonly used voltages
TC Furlong offers Shure WL93 Lavalier rentals alongside hundreds of microphone rentals and an extensive rental inventory of professional audio equipment.
Contact the TC Furlong Rental Team today to rent the Shure WL93 Lavalier in Chicago, Suburban Chicago, or nationwide, at 847.367.9588 or rentals@tcfurlong.com.
Shure WL93 Lavalier Rental Documentation: