Marantz PMD670 Portable Solid-State Recorder Rental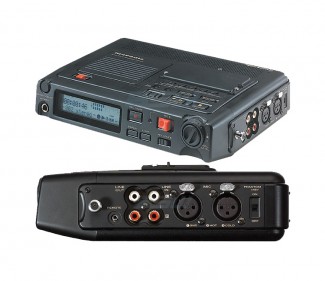 We offer Marantz PMD670 Portable Solid-State Recorder rentals in Chicago, the Chicago suburbs, and nationwide.
If you have any questions about a Marantz PMD670 Portable Solid-State Recorder rental in Chicago, suburban Chicago, or nationwide, or to reserve your rental, contact our Rental Team at 847.367.9588 or rentals@tcfurlong.com
The Marantz PMD670 Portable Solid-State Recorder is just one of many playback and recording devices in our rental inventory.
The PMD-670 is a rugged and reliable digital portable audio recorder wherein digital audio data is stored directly to a single Compact Flash Memory Card or Microdrive. There are two major advantages to this technology. Firstly, it is basically shock resistant, since there are no moving parts in the recording medium. Secondly, data transfer to and from a computer for processing and editing has been greatly simplified. Either the card can be removed and inserted directly into a computer, or the built in computer I/O port may be serially connected.
Flash Memory PC Cards are offered in sizes ranging from 8MB to 1200MB. The capacity required will depend on two factors: the time required for recording in a given session, and the acceptable level of audio quality. The PMD670 will record uncompressed PCM (.wav) files or compressed MP2 (.mp2) and MP3 (.mp3) files at various bit rates. Compression is a function of bit rate. Lowering the bit rate increases the compression and diminishes sound quality. As a general guide, a 512MB card will record about 40 minutes of stereo CD quality audio, while .mp2 at 128kbps will yield over 3 1/2 hours of audio.
The PMD670 is ideal for in-the-field audio recordings of interviews and for high quality sound gathering. The ability to archive to various formats allows this unit to interface with a variety of equipment, be it analog, digital or a PC based system. Unbalanced RCA inputs and outputs along with a pair of XLR microphone/line inputs are complimented by a S/PDIF I/O on RCA coaxial connectors. A switchable band or high-pass filter helps with reducing ambient noise. The unit comes with a two-second pre-record buffer, a silent skip mode and has a built in microphone and speaker.
Portable digital audio recorder
Records to compact flash media that is immune to shocks and large temperature fluctuations
Auto and manual track marking
Repeat playback
For very large tracks,the normal reverse and forward search speeds are too slow if certain points later in the track need to be reached. Therefore, a 30x and 250x normal speed search is available
Manual record with limiter or auto record level control
Selectable filter for ambient noise control
48v phantom power available at the XLR inputs
Built-in microphone and speaker
Start/Stop remote connector
Can be powered using an AC adapter, optional rechargeable battery or optional 8 AA batteries
Built-in power management and emergency shut-down system when batteries are used with warning tones
TC Furlong offers Marantz PMD670 Portable Solid-State Recorder rentals alongside many other playback and recording devices and an extensive rental inventory of professional audio equipment.
Contact the TC Furlong Rental Team today to rent the Marantz PMD670 Portable Solid-State Recorder in Chicago, Suburban Chicago, or nationwide, at 847.367.9588 or rentals@tcfurlong.com.