Sony CDP-L3 CD Player Rental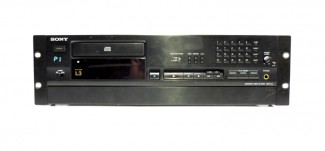 We offer Sony CDP-L3 CD Player rentals in Chicago, the Chicago suburbs, and nationwide.
If you have any questions about a Sony CDP-L3 CD Player rental in Chicago, suburban Chicago, or nationwide, or to reserve your rental, contact our Rental Team at 847.367.9588 or rentals@tcfurlong.com.
The Sony CDP-L3 CD Player is just one of many playback and recording devices in our rental inventory.
Outstanding features like XLR-type balance output and auto cue editing capabilities make the CDP-L3 an excellent value for a wide range of uses. Designed using Sony's high sound quality concept and loaded with its advanced audio technology, the CDP-L3 boasts an array of features and functions capable of satisfying even the most demanding musicians, studios, and music connoisseurs.
Incorporating digital and anolog output jacks with a preset volume the CDP-L3 offers high connectivity for future system integration with a variety of & equipment. Advanced Digital Technology Realizes Quality Sound Design Dynamic editing functions Like Auto Cue A-B Repeat Put You in charge XLR Type Balance Output Jack Enables precise Output Level Adjustment Digital to Digital Connectivity Without Sound Deteriortion.
Frequency response- 2-20,000Hz +/-0.5dB
Harmonic Distortion(EIAJ)- Below 0.0025%
SN Ratio(EIAJ)- Over 113dB
Dynamic Range(EIAJ)- Over 99dB
Wow et flutter(EIAJ)- Below measurable limits(+/-0.001% WPeak)
Output Jack- Line output ; 2 systems(pin jack/XLR -3-32 compatible connector), 1 optical digital system, headphone output(standard
jack)
Maximum External Dimensions(mm)- 430(W) * 125(H) * 295 (D); 482 (E) 3U size (H) when rack mount adaptor is installed
Weight- 4.1kg
Power Consumption- 11W
TC Furlong offers Sony CDP-L3 CD Player rentals alongside many other playback and recording devices and an extensive rental inventory of professional audio equipment.
Contact the TC Furlong Rental Team today to rent the Sony CDP-L3 CD Player in Chicago, Suburban Chicago, or nationwide, at 847.367.9588 or rentals@tcfurlong.com.
Sony CDP-L3 CD Player Rental Documentation: