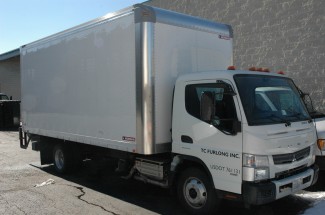 The newest addition to the fleet at TC Furlong Inc.—a 2012 Mitsubishi Cantor FE180.
This brand new truck is equipped with a remote-controlled aluminum Waltco Liftgate, and holds 2000 lbs. more payload than our previous truck.  The truck is also equipped with numerous creature comforts, including spacious seating for three, engine brakes, and a state-of-the-art CD player.
Sadly, the box of cassettes has been retired.
TC Furlong is all about reliability.  This acquisition is another way that we ensure our clients get the best gear when they need it.
We look forward to continuing to provide top-notch, reliable service to all our clients!