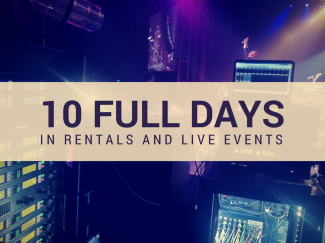 Rental and live events operations at TC Furlong are in constant motion.  Here are some highlights of a recent 10 day period:
Gin Blossoms—a full monitor rig including wedges, ears, monitor engineer, and one of our venerable Yamaha PM5D consoles, plus backline for a private function (that also featured Midwest rockers Styx) at McCormick place in Chicago. "The 5D continues to be a workhorse in our console inventory," stated project manager and Monitor Engineer Chris Wintz, "…and it was a good to work with the Blossoms again."
Tall Tales Music Festival—a 2-day outdoor festival of American music.   We provided a full PA system including Meyer MSL4 arrayed from a Stageline roof, iPad control of QL5, LED lighting, and one of our staff engineers. Hot and steamy with a touch of rain!
Robin Thicke—a sizeable RF support package featuring Shure PSM1000, UHF-R, and Axient systems, an RF technician, and all the gadgets (spectrum analyzer, RF filters ,specialty antennas, etc.) for Robin and his band. We sent the same package (minus the RF technician) for Robin's appearance at the Illinois State fair. Steve Whittenhall was our project manager and RF tech.  "No Miley and no "Blurred Lines" girls at this show, but with over 30 channels of Shure wireless in my coordination, we had our hands full. Wireless Workbench 6 was essential."
Meet the Team—a full PA system and (2) staff engineers for a special event to introduce Northwestern University's 2014 wildcat football team.
Digital Console Training—we organized and presented an intensive ½ day hands-on training session for the sound crew of a local University.
Meyer Monitoring—(6) Meyer UPA-1P flown from a circular truss for a recording session for a large local church.
Outdoor Baptism—a complete sound system (self-powered speakers on sticks, digital mixer) delivered and set-up at a mansion on Lake Michigan.
Church Fundraiser—a full sound system (MacPherson M2X, Meyer 650-P, console, wedges, inputs, staff engineers, and a portable generator) for the music stage and a special morning mass. "An already tight production schedule was stretched to the limit when the client-arranged generator didn't pan out," Crew Chief, Johnny Dwyer, recalls. "Fortunately, we were able get one of our portable generators from our warehouse just in time for soundcheck."
College Orientation—another full system (Meyer MSL-4, DS-4P, and UPJ-1P mains, plus Danley wedges, Yamaha QL5 digital console w/Rio, etc.) for a large local college's annual student orientation events.
Plus dozens of other less notable but equally important jobs.
No matter the size of your event, we have the knowledge and expertise to ensure the technical production is exceptional.
Contact one of our project managers at 847.367.9588 for help with your next event.