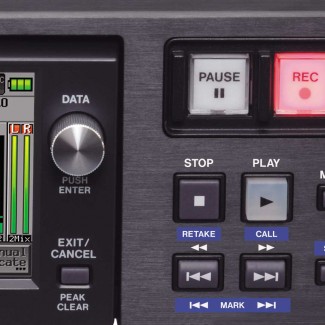 Choosing the perfect digital recorder for your application can be tricky, with an increasing number of high-quality options from manufacturers available.
Here are 5 questions to ask that will help you find the perfect fit.
What kind of recording do you need to do?  Are you just looking for mono or stereo recording of spoken work, or are you looking for full multitrack recording of a musical act?
What format would you like to record to?  Many digital recorders have multiple mediums to which they are able to record, but these differ from one recorder to the next. Options include CD/DVD, CompactFlash and SD card, USB thumb drives, external USB hard drives, and even included internal hard drives.  Make sure your recording medium is the best option for your workflow.
Where are you going to be recording? If you are choosing a digital recorder for a permanent installation, you may want to consider something that is rack-mountable. Often, these kinds of recorders also come with the ability to interface with a network, which can significantly speed up your workflow. If you need to take a recorder on site, you'll need something portable and possibly battery-powered.
What sort of input or output do you need? Recorders will often offer a variety of inputs and outputs–RCA, TRS, XLR, DSub, optical, and more.  You'll also want to make sure you have any cables or adapters you'll need.
Do you need extra options? Some portable digital recorders will come with built in microphones or ways to attach them to tripods. Install recorders may be surface mounted with optional rack-mounting kits available.
Choosing a recorder really comes down to clarifying your application, then identifying a recorder that fits within your needs and your budget.
We offer a wide range of digital recorders from several manufacturers, and have the knowledge and experience to help you make the perfect choice.
For a quote on a digital recorder, please contact our Sales Team at 847.367.9588 or sales@tcfurlong.com.