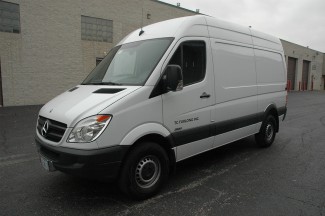 We recently added a Mercedes-Benz Sprinter 2500 Cargo Van to our operations fleet—continuing to invest in reliable transport options for our clients
This vehicle has more than 50% more cargo room, including a 6'6" interior height, allowing us to efficiently carry and deliver more gear.  We've also customized the van with e-track and a lightweight ramp for ease of loading and secure gear transport, helping us to ensure your equipment is in good working order when it arrives.
The van is powered by a 3.0 liter V6 turbo engine with BlueTEC diesel technology—with outstanding fuel economy and impressive power delivered from one of the world's cleanest engines.
We look forward to giving our clients excellent, reliable service for years to come!