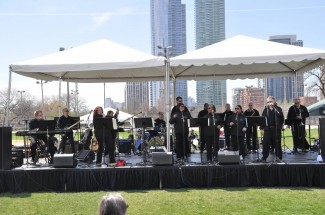 Live music can add a lot of energy to an outdoor event, especially when the music is provided by a big, enthusiastic band that is thrilled to be performing.
This was certainly the case at our one of our first outdoor events of the season—the National MS Society's annual 5K Walk.
The Exceptions, a band made up of Northern Trust employees, played three sets of classic rock and soul hits. Featuring 5 horns, a full rhythm section, and a whopping 8 vocalists, the band skillfully and joyfully greeted the Walk's participants with songs from Chicago, Aretha Franklin, The Doors, and Guns 'n' Roses, just to name a few.
Better audio by design: our system consisted of (2) MacPherson M2X and (1) Meyer 650-P per side, mixed side-stage on a Yamaha LS9-32. The relatively small PA kept the music loud and the energy high for the people in the stage area without interfering with the tents and kiosks farther away from the stage.
Participants of the event could enjoy the music up close, while still being able to enjoy the rest of what the event had to offer.
Marylin Aikens, VP at Northern Trust, and our contact for this event, said:
"Thanks for an incredible job provided by [TC Furlong Engineer] Luke Walchuk, in his sound support of the Northern Trust Exceptions Band, in conjunction with the NMSS Walk.  The sound was so crisp and clear, between the singers, drums, guitars, horns, etc.  Everything was absolutely perfect.  Luke was a wonderful resource; his professionalism and know-how took our entire event to another level"
Beautiful weather combined with a worthy cause, a great band, and a solid audio design made this event a successful opener for our summer outdoor season.
For help with audio production at your next event, please contact our General Manager, Jeff Cech, at 847.367.9588 or jc@tcfurlong.com.