Join us after work on Wednesday, August 22 at the TC Furlong offices for wine, cheese, networking, and some hands-on time with new gear!
Clear-Com's North and South American Sales Manager, Mike Rucker, will be here for a small group event featuring the new HelixNet digital party-line intercom system and the Tempest digital wireless intercom platform.
This event is free, but space is limited.  Click here to RSVP.

Clear-Com's new HelixNet is an all-digital platform that delivers superior audio quality and central administration of the entire party-line system from the main station, all while running on the same cable infrastructure used by analog party-line intercom.
HelixNet party-line delivers unique capabilities for achieving greater efficiency, cost-savings, and flexibility from setup to operation and maintenance.  The initial release of HelixNet Partyline consists of the HMS-4X Main Station, HBP-2X HelixNet Beltpack, HLI-2W2 Two-wire Interface Module, and the HLI-4W2 Four-wire Interface Module.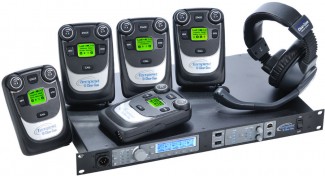 The Tempest digital wireless intercom platform addresses the issue of successful production wireless operation in an increasingly crowded RF landscape.
The Tempest family of wireless intercoms currently comprises of the Tempest2400 and Tempest900 system, available in 2- and 4-channel configurations, operating in the 2.4GHz or 900MHz frequency bands, respectively.  Tempest requires virtually no user RF knowledge or intervention, making setup and user operation simple and fast.
Mike Rucker will be on hand, along with TC Furlong staff, to answer any of your questions and give a runthrough of the features and operation of the HelixNet and Tempest Systems.
This event is free, but space is limited.  Click here to visit our registration page.
We hope to see you on August 22!