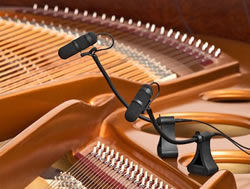 Join us after work on Wednesday, September 12, between 4:30PM-7:00PM, at the TC Furlong offices for wine, cheese, networking, and some hands-on time with new gear!
DPA Microphones President, Eric Mayer, and Product Specialist, Bryce Boynton, will be here for a small-group event featuring a large selection of DPA microphones, including their newest products: the d:fine headworn microphone, d:facto handheld microphone, and the d:vote 4099 instrument microphone.
This event is free, but space is limited—click here to RSVP.
DPA's ultimate goal is to provide the user with the absolute finest possible microphone solution for your tasks, whether its be live sound, recording, theater, or broadcast.
All DPA microphones are made at their own factory in Denmark, with no shortcuts or compromises taken in the manufacturing process.
DPA microphones have been praised for their exceptional clarity and transparency, supreme reliability, and, above all, pure, uncolored, and undistorted sound.
These microphones must be heard to be appreciated, and we'll have a listening station set up so you can hear them in person.
Eric Mayer and Bryce Boynton will be on hand, along with TC Furlong staff, to answer any of your questions and give a demonstration of the DPA product line.
This event is free, but space is limited.  Click here to reserve your spot today!
We hope to see you on September 12!