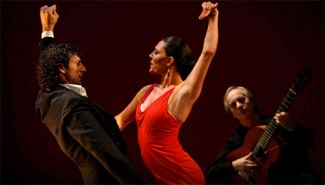 Adding sound reinforcement to a concert hall designed for acoustic performances is always a challenge.
Recently, a touring flamenco performance group, headlined by guitar virtuoso, Paco Peña, came to a concert hall in Evanston, and TC Furlong provided a complete sound reinforcement system.  Having worked in that space before, we were aware of the acoustics and the design of the room.
This was a case where less was definitely more.  Bringing too powerful of a PA system would result in a muddy sound in this extremely reverberant space.
With this in mind, we designed a system with a single Meyer CQ-1 and 650P subwoofer per side as our main PA.  The front two rows were covered with Meyer UPM-1P front fills.
The balcony received just a touch of additional reinforcement with two well-placed MacPherson M2X loudspeakers.
The entire PA was controlled with an XTA 226 system processor.  Scott Helmke, the TC Furlong System Tech, expertly tuned and aligned the PA for even coverage throughout the hall.
Avid Profile system does double-duty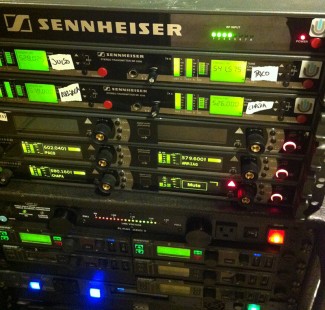 The FOH console on the tour rider was an Avid Profile, and we provided our 4-mix engine, 48×24 system. The digital snake made for an easy load-in and strike.
The monitor system (6 channels of wireless IEM and 2 side fills) was all controlled and mixed through the Profile at FOH.  The band tours with 4 channels of Sennheiser 3000-series IEM.
While the tour rider specified (and we provided) 2 Meyer Sound UM-1P monitors, knowing the acoustic situation, we brought, and ended up using, 2 channels of Shure PSM900 wireless IEM.  These systems were also a backup, in case the wireless IEM systems the band provided operated in a crowded frequency band.
DPA and Shure microphones captured the essence of flamenco
The performers consisted of 3 guitar players, 1 cajon player, 2 vocalists, and 3 dancers.
The guitars were mic'd using DPA d:votes with guitar mounts.  These mics were connected to the band's wireless bodypacks—Sennheiser 5212 micro bodypacks attached directly to the back of their guitars.  In this case, we brought backup Shure UHF-R systems, in case of any frequency issues.
The Cajon was mic'd with a Shure SM91 carefully taped to the inside—the only wired mic on stage.
Vocalists were mic'd with DPA 4088 headset microphones, connected to Sennheiser 5212 micro body packs.
The original system design called for 4 Crown PCC160's to mic the dancers, but the acoustics in the hall and the wooden stage proved to be loud enough without amplification.
After all the careful planning and on-site adjustment, the 2.5 hour show went off without a hitch, and the sell-out audience enjoyed the world-class flamenco musicians and dancers.
If you need help with a live event, whether it be a flamenco performance or a corporate meeting, please contact our General Manager, Jeff Cech, at 847.367.9588 or jc@tcfurlong.com.