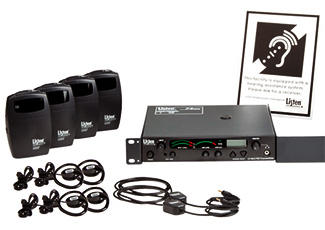 The number of Americans dealing with hearing loss is on the rise, due to aging and lifestyle.
Currently, over 40 million Americans, or about 17% of the population, have a measureable degree of hearing loss.  That number far outweighs the percentage of people with physical disability (1.4%) and visual disability (0.14%), yet we frequently fail to consider their specialized needs at live events.
Assistive listening products help solve problems like background noise and reverberation for those with hearing loss, allowing them to participate fully in the event.
After considerable research, we chose Listen Technologies' line of assistive listening products, based around the LT-800 RF transmitter and LR-400 RF receivers.
We currently have hundreds of assistive listening receivers and transmitters in our rental inventory, along with a wide selection of output devices—including standard single-ear speakers, stereo headphones, and neckloops compatible with hearing aids.
We routinely design and rent systems of 50+ receivers, with multiple RF transmitters to cover large areas within a venue.
These systems can also be used for language interpretation and translation applications.
We recently had a client use 3 systems to design a "silent PA" system.  About 100 attendees were at the client's meeting, and instead of dispersing the attendees to three separate breakout rooms, the breakouts happened in the same room, with the attendees choosing which presentation they wanted to "attend" on their individual beltpack.
Our inventory of Listen Technologies assistive listening gear includes:
LT-700-216 portable RF transmitter w/lavalier microphone
LT-800-216 RF transmitter
LR-400-216 beltpack RF receivers
LA-164 Ear speaker
LA-165 Stereo Headphones
LA-166 Neck Loop
LA-170 Behind-the-head Stereo Headphones
Various antennas, cases, and other accessories
If you have any questions about assistive listening systems, or would like us to design a system for your next event, please contact our Rental Team at 847.367.9588 or rentals@tcfurlong.com.