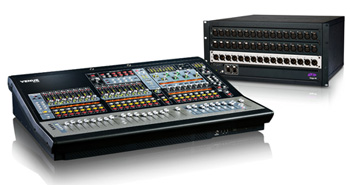 Avid has announced promotions on its VENUE line of live sound digital consoles, valid through June 30, 2013.
Get a Complimentary Stage 48 Remote Box
Purchase either an SC48 Remote System or a Mix Rack System with an Ethernet Snake Card and get a complimentary Stage 48 remote frame—a $3,499 value.
The Stage 48 has 3 cardslots, allowing for analog inputs, analog or digital outputs, or an Aviom A-net card to be placed on stage.  (This promotion does NOT include any cards.)
Save up to 20% on VENUE with Your Trade-In
Clients can trade in any used analog or digital console (with a retail value of at least $5,000) towards the purchase of a new VENUE D-Show, Profile, Mix Rack, SC48 or SC48 Remote System and save up to 20%.
The exact amount of the rebate is determined by the original MSRP of the trade-in console, as well as which Avid console is being purchased.
In previous versions of this promotion, the trade-in console had to be destroyed, but Avid is now allowing for the trade-in console to be donated to a charity or non-profit organization of your choice.
To take advantage of either of these promotions, or for a quote on VENUE products or trade-in values, please contact our Sales Team at 847.367.9588 or sales@tcfurlong.com.