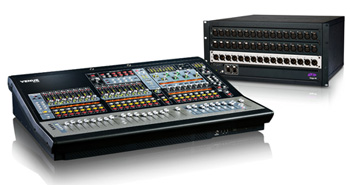 Recently we held an After Hours event at our shop with some of the guys from Avid to show off the new VENUE SC48 Remote System and VENUE 3.0.
If you were unable to attend, here are some of the things we learned.
SC48 Remote System
The SC48 Remote System offers the same great sound quality, reliability, and portability of VENUE SC48 in a more versatile solution.
As an alternative to the all-in-one SC48, the VENUE SC48 Remote System features the SC48 digital console paired with the new VENUE Stage 48 remote box, enabling you to place your I/O away from the console and closer to your sources.
With fully integrated Pro Tools recording/playback and plug-in support, you can bring the sound of the studio to any live performance.
The Stage 48, stage box comes with 32 inputs and 16 outputs in the SC48 Remote System configuration; you can place your I/O anywhere—up to 328 feet (100 meters) from the console, and closer to your sources for maximum fidelity.
The system is fully redundant with auto-switching AVB-ready snake connections over inexpensive, lightweight Cat5e cable for rock-solid reliability without the cable clutter.  You can also expand and customize the I/O for your needs.
SC48 features a built-in Pro Tools interface, making it easy to record and play back up to 32-tracks.  Simply connect a computer running Pro Tools software (which is included with the console), and VENUE Link syncs your live mixing and recording rigs together, enabling you to control them as one.  With Virtual Soundcheck, you can fine-tune mixes before the band shows up, using tracks recorded from a previous performance.
That's the just the tip of the iceberg.  To learn more about the new SC48 Remote System, visit the Avid website.
VENUE 3.0 Software
Just in time for the SC48 Remote System comes new VENUE 3.0 software—available for all VENUE systems.
When it comes to mixing live sound, having the tools you need to present the highest quality audio possible—quickly, easily, and reliably—is of the utmost importance.
With VENUE 3.0, Avid took your feedback to heart, delivering the features you asked for and faster workflows to speed up all aspects of your mixing—no matter which VENUE system you use.
VENUE SC48 users can create even bigger, better mixes and recordings—with more input processing channels, Pro Tools recording/playback tracks, busses, and plug-ins.
What's new for all VENUE users
Record and play back up to 32 Pro Tools channels (up from 18) over FireWire (SC48 and FWx Option Card users)
Create bigger mixes with expanded input processing channels in SC48 (increased from 48 to 64) and VENUE Mix Rack (increased from 64 to 80) Systems
Manage multiple Aux busses with ease, now that Aux bus names are displayed on the Inputs page
Get HPF settings included in all EQ presets, and when copying/pasting EQ settings
Quickly configure your console layout by simply dragging and dropping channel strips
Get fast access to the Inputs page by double-pressing the Select button
Program the Console User button in the Events List to perform common tasks such as tap tempo or recalling a snapshot
Quickly cancel Multi-Select mode by pressing the Multi-Select button
What's new for VENUE SC48 users
Handle larger monitor mixes, now with 24 busses available (up from 16)
Create better mixes with more plug-ins, now with 40 plug-in slots (up from 20)
Supports the new Stage 48 remote I/Os box and companion Ethernet Snake Card
Learn more about VENUE 3 Software here.
If you have any questions about Avid products, please contact our Sales Team at 847.367.9588 or sales@tcfurlong.com.