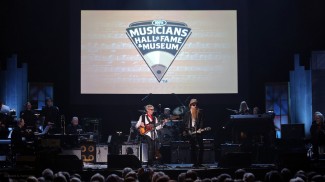 As one of the world's great music capitals, Nashville, TN is at the crossroads of talent, television, sound, and spectacle. These all came together recently at the Musicians Hall of Fame and Museum's 2014 Induction Ceremony at the historic Nashville Municipal Auditorium. TC Furlong Inc. served as Audio Producer for the event.
The cavalcade of artists receiving or presenting awards and/or performing included: Billy Gibbons, Chris Isaak, Duane Eddy, Jimmy Capps, Barbara Mandrell, Will Lee, Randy Bachman, Kenny Wayne Sheppard, The Oak Ridge Boys, surviving members of Double Trouble (Reese Wynans, Tommy Shannon, Chris Layton), Mike Ferris, Brenda Lee, Velma Smith, Corki O'Dell, Wayne Moss, Buffy St. Marie, posthumous award for Roy Orbison (accepted by Roy's sons Alex, Wesley and Roy Jr.) plus Don Felder, Peter Frampton, and—last but certainly not least—Neil Young.
The MC was Chip Esten (Deacon Claybourne on ABC's Nashville) and the 15 person house band included many veteran session and touring musicians, such as Toto's David Hungate on bass.
The complexity and challenge of any live event was intensified by the tough room acoustics (the nickname for the small arena is "the Dome"); the sheer volume and diversity of the artists; the limited rehearsal availability and the "live to tape" aspect of the show.
Recognizing the need for local support to accommodate anticipated last minute changes and additions, Brantley Sound Associates was contracted for sound reinforcement gear and technicians.
Better Audio by Design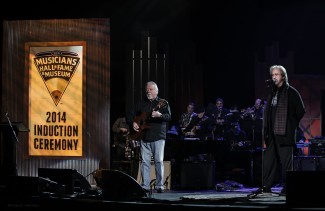 We worked closely with Brantley Sound Associates on loudspeaker design, splitter configuration, crew selection, and choices of everything else including consoles, wedges, and microphones. We also hired veteran live recording experts MetroMobile Location Recording (Glenview, IL) as our audio recording truck to complement TNDV mobile video production. SIR Nashville was chosen to handle the substantial backline needs. TC was our Project Manager—he reviewed all the riders, advanced the show with each artist, stitched together a cohesive input list and stage plot, and orchestrated all of the audio- and backline-related details. TC and Jeff Cech were on-site to oversee everything related to audio at the show.
Despite lots of curve balls, long days, and last minute changes, the audio and all aspects of the show went off without a hitch.
Whether you are planning a major music awards show, a dog show, a business meeting, or anything in between, you can rely on the expert designers, project managers, and engineers from TC Furlong to support you in producing a successful event.
Related Documents
All photos above credit Richard A. Famularo