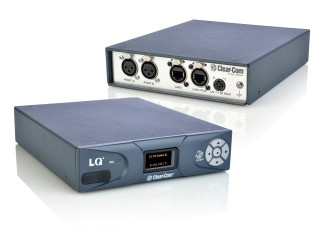 With multi-site church campuses (often with streaming A/V feeds) growing in popularity, reliable real-time communication between productions teams at different locations has become a priority. Clear-Com has released a solution for this need with the LQ series.
The LQ Series is Clear-Com's newest line of Intercom Connectivity (ICON) solutions. With either the two-wire (LQ-2W2) or four-wire (LQ-4W2) options, the LQ devices are ideal for intercom users who need to cost-effectively extend their existing intercom systems to single or multiple remote locations over their IT infrastructures, eliminating lengthy audio cable runs.
LQ can also interface between different intercom systems routing both call signaling and audio over LAN, WAN or Internet IP connections: 2-wire partyline with other OEM partyline systems, 2-wire with 4-wire devices, and 4-wire with 4-wire systems. The LQ-2W2 is both Clear-Com and RTS TW compatible. A maximum of six LQ Series interfaces can be linked together to form a managed network.
These two-channel devices are light-weight, portable and compact, and configuration is effortlessly achieved over a browser-based user interface.
Unique features of the LQ Series devices include Power over Ethernet, auto-nulling capability, multi-cast 1 to 5 routing, auto-discovery, and use of the OPUS codec for high quality audio and low bit rate transmission.
"Regardless of the type of intercom system being used, the LQ Series makes it easy to extend the system to the other side of a building, across campus, or across the world," said Stephen Sandford Clear-Com's Product Manager for Matrix and IP interfaces. "The ability to have an intercom station wherever Internet access is available is invaluable as productions become more complex and the need for reliable distributed communications becomes more important. The LQ Series addresses this need perfectly."
Check out some sample system diagrams below.
For more information about the LQ series, or any other intercom products, contact our Sales Team at 847.367.9588 or sales@tcfurlong.com.