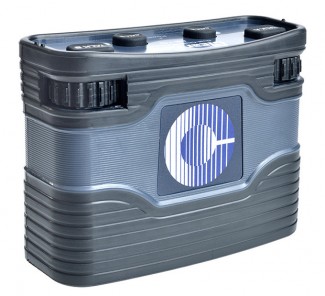 Now in their 45th year, Clear-Com celebrates its success with the unveiling of the complete line of RS-700 Series partyline beltpacks.
The new RS-700 Series design was based on Clear-Com's popular RS-500 Series beltpacks that were highly durable and reliable.
The contour-shape design gives the beltpacks the ideal form for a very comfortable fit, and all units are constructed with highly durable material for a tough exterior and strong enclosure to endure harsh, repetitive daily use.
The "Clear-Com" Sound
Similar to its predecessors, the new RS-700 Series beltpacks feature state-of-the-art performance and exceptional audio clarity for partyline communications in small to mid-size productions.
The beltpack's wide dynamic range and audio contouring enable intelligible voice communication for every audio level, from a whisper to a shout, through the exclusive, crystal-clear "Clear-Com Sound."
User-selectable microphone and listening level options and built-in limiters support the pristine audio quality.
New Easy-Access Features
The 700 Series beltpacks feature recessed rotary volume controls and Talk and Call keys that are guarded against accidental activation.
An LED off mode is available for instances when the user requires complete darkness.  For these situations, the switches are placed in convenient locations for ease of use.
A concealed DIP switch on the back of the beltpack allows users to select audio and key options quickly and easily.
Learn more about the new RS700 beltpack on the Clear-Com site
Contact our Sales Team at 847.367.9588 or sales@tcfurlong.com for a quote on the new RS-700 series.