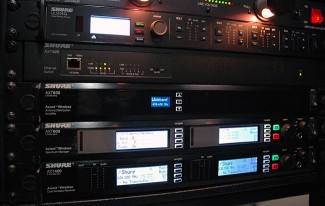 Wireless mics can be difficult to operate.  Venue construction, zip code, antenna distribution, antenna design, and equipment selection are all factors.
With experience and the correct tools, it can almost always be done very successfully.
Christ Church of Oakbrook has several channels of Shure ULXP in use on a weekly basis that work fairly well.  However, when they decided to do a national broadcast, they knew RF problems needed to be prevented at all costs.
Knowing the limitations of their gear, they called TC Furlong Inc. for a rock-solid solution.
Together with Larry Frisk, the church's Audio Visual Worship Technician, we designed a system consisting of (4) Channels of Shure ULX-D and (2) Channels of Shure Axient.
"The ULXD4Q (quad receiver) and the AXT400 were both being monitored and controlled via a Shure AXT600 Wireless Spectrum Manager.  The Shure Axient system provided fail-safe performance of his 2 Star channels," said TC Furlong Project Manager, Steve Whittenhall.  "The ULX-D offered stable, spectrum-efficient RF for the remaining channels."
A few days before the event, we dispatched one of our Shure Axient Certified Technicians to the Church to integrate and coordinate the 6-channel system.  Armed with the rack of wireless, Professional Wireless IAS software, and an RF scanner (TTI PSA1301T RF Spectrum Analyzer 1.3GHz) our tech was able to scan the room and engage the Axient AXT600, ensuring the wireless systems were operating outside of any potential problem frequencies.
Planning, experience, hard work, and the right design for the job made this event successful.  The wireless mics never became a distraction for the tech team or the audience.
At TC Furlong, we have the tools and the knowledge to make your event perfect—from design to implementation.
If you need help with design or coordination of your venue's wireless systems, please contact our General Manager, Jeff Cech, at 847.367.9588 or jc@tcfrurlong.com.