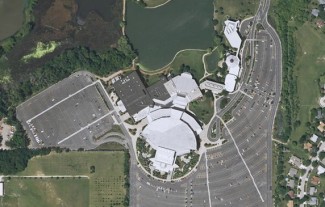 If you have ever been to the South Barrington campus of Willow Creek Community Church, you know that their grounds are beautiful and extensive.
When planning this year's Father's Day event, Willow Creek asked us to design a system that would allow the music and announcements coming from the DJ area to be heard all around the perimeter of their massive building.  In addition to a huge coverage area with lots of turns and obstacles, a major priority was having as few cables on the ground as possible.  With hundreds of people walking the campus, keeping trip hazards to a minimum was paramount.
After discussing several audio designs based on satellite images of the campus, the next step was a site survey.  The satellite view didn't do a good job of showing a lot of the foliage in the area, and it didn't give a hint of the hilly nature of the terrain, and the site survey allowed us to refine our design taking these issues into account.
Besides the main DJ system, we had to distribute the same program material playing on more than 10 speaker locations along a U-shaped path that stretched roughly 2000 feet around the Willow Creek buildings.
With local power available at many of the speaker locations, we decided that using point-to-point wireless systems with a variety of specialized antennas was the best way to go—reducing trip hazards and decreasing setup time.
Signal was sent via hard line (run across the roads in cable ramps) from the main console to two wireless transmitters.  From there, the signal was broadcast to the other speaker locations, often being relayed multiple times from one speaker location to the next.
On the day of show, it took our crew of three most of a day to get the system up and running, despite having to work in rain for the first three hours.  We ended up making one small change to the location of one of the speakers, but for the most part implemented the design exactly as we planned it.
This was a challenging, but very interesting project to work on. Design and advance preparation paid off.   The sound was crystal clear, even with wireless transmissions over 500 feet.
If you have a live event needing audio support, please contact our General Manager, Jeff Cech, at 847.367.9588 or jc@tcfurlong.com.