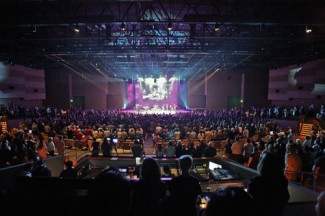 We recently had the privilege of working closely with one of our long-time clients, Chris Gille (formerly of Willow Creek Community Church), to design and supply the sound system, consisting of Meyer MICA, Constellation/D-mitri, an Avid VENUE console, and related items, for Eastside Christian Church's new 1,765-seat auditorium.
The size and construction of the room made acoustics a challenge.  Rather than being locked into a "fixed acoustical ceiling," the Eastside team opted to install a Meyer Sound Constellation System, which, in this case, uses an array of more than 30 microphones and 50 speakers (and a ton of processing power) to model room acoustics in real time.
Originally posted via Meyer Sound:
Constructed inside the shell of a vacated Boeing Defense Systems plant, Eastside Christian Church in Anaheim, Calif. is centered on a 1,765-seat worship auditorium. A Meyer Sound Constellation acoustic system and a MICA line array loudspeaker system were installed here to provide flexible sonic enhancement for Eastside's contemporary worship band and musical events.

In addition to supplying variable acoustics, Constellation also helps lend a sense of small-room intimacy to the teaching segments of Senior Pastor Gene Appel and others. "The main benefit of Constellation is that we can finesse it. We are not locked into a permanent acoustical decision as we would have been with a fixed acoustical ceiling," says Chris Gille, Eastside's CTO and chief systems engineer.

Gille says Constellation's effect on the room is strikingly apparent at all times. "Just talking with the default settings on, the room feels alive, yet controlled."

At the core of Eastside's Constellation system is a D-Mitri digital audio platform comprising three DVRAS processors for the three acoustical zones, plus six additional processors for core processing and analog input/output. Thirty-two miniature microphones are deployed for ambient sensing of the physical acoustics. Constellation is also supported by a total of 80 HMS-10 cinema surround, MM-4XP, and Stella-8C installation loudspeakers, and eight M1D-Sub subwoofers. In addition, loudspeakers in the sound reinforcement system are utilized.

Eastside's Constellation system allows the main reinforcement system to automatically adjust the Constellation-generated reverberation time in response to the level of amplified sound in the room. This new capability was conceived by Gille.

"When the desk drives the mix to a certain threshold, Constellation subtly pulls back the strength parameter," Gille explains. "When the mix is loud, the room dries up just a touch, helping to clarify detail and widening the stereo image from the main arrays."

The sound reinforcement component features main left and right hangs of eight-each MICA line array loudspeakers, supplemented by a total of 10 additional UPQ-1P, UPQ-2P, and UPJunior VariO loudspeakers. Four 700-HP subwoofers are placed under the stage. The entire system is controlled by a Galileo loudspeaker management system with two Galileo 616 processors.

Feeding the front end of the system is an Avid D-Show digital console. Wireless microphone systems are Shure UHF-R, with seven handhelds and seven beltpacks equipped with DPA and Countryman headset mics. Six channels of Shure PSM900 wireless IEMs supplement both an Avid VENUE Personal Q and an Aviom personal monitor mixing system.
As always, it was a pleasure to work with Chris Gille and his team, assisting with system design and providing the gear for this project.
For more information about Meyer Sound products, or for consultation on your next project, please contact our Sales Team at 847.367.9588 or sales@tcfurlong.com.