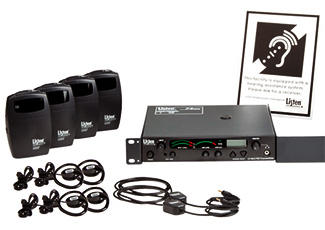 It's important to be seen and heard… especially when you are giving a tour presentation.
Unfortunately, guided tours often present acoustic challenges, like ambient noise in a commercial space or interference from other tour groups at a cultural attraction.
Portable assistive listening products from Listen Technologies offer a unique solution for this problem. These systems can provide up to 150 feet of range indoors and out, and allow tour participants to hear even in noisy environments.
Possible applications include manufacturing tours, building ground breakings, museums, outdoor tours, language interpretation, national parks, attractions, sightseeing tours, cruise ships, or even bus tours.
We currently have hundreds of assistive listening receivers and transmitters in our rental inventory, along with a wide selection of output devices—including standard single-ear speakers, stereo headphones, and neckloops compatible with hearing aids.
We routinely design and rent systems of 50+ receivers, with multiple RF transmitters to cover large areas within a venue.
Our inventory of Listen Technologies assistive listening gear includes:
LT-700-216 portable RF transmitter w/lavalier microphone
LT-800-216 RF transmitter
LR-400-216 beltpack RF receivers
LA-164 Ear speaker
LA-165 Stereo Headphones
LA-166 Neck Loop
LA-170 Behind-the-head Stereo Headphones
Various antennas, cases, and other accessories
If you have any questions about tour guide systems, or would like us to design a system for your next event, please contact our Rental Team at 847.367.9588 or rentals@tcfurlong.com.
TC Furlong also sells guided tour systems. For questions about purchasing a Listen Technologies system, or anything from our list of over 100 professional audio manufacturers, contact our Sales Team at 847.367.9588 or sales@tcfurlong.com.