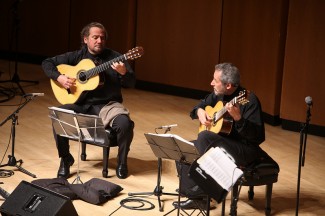 Classical guitar duo, the Assad brothers, and Grammy Award-winning woodwind player, Paquito D'Rivero, recently performed their show, "Dances From the New World," in a concert setting, and TC Furlong provided a full audio rental system, along with audio engineers and system techs.
Last-Minute Audio Redesign
The original stage plot and sound requirements from the performers had, in place of a conventional PA system, one small speaker in front of each performer, which would provide excellent localization for the acoustic instrument performers.
Our design included Meyer UPJ-1P speakers, laid on their sides and with the "VariO" horn rotated for proper horizontal coverage from the 80×55 degree horn pattern.  Several layers of black Duvetyne cloth were laid on the wooden stage surface in front of each speaker reduced reflections and resulting comb filtering.
However, upon arrival the performers decided to change the setup to a more conventional left-right pair of main speakers and floor monitors.  We already had a pair of Meyer CQ-1 speakers set up as mains for voice reinforcement, and moved those closer to the performers and further upstage than usual.  This configuration helped with the localization of audio.
The UPJ-1P speakers were repurposed as monitors and as front-fills for the front center seats.
A Natural Sound
Along with the audio localization concerns, the performers were very specific about the mix being as natural as possible.
During the show the guitars were only brought up to the level of the clarinet, and mixed closer to their natural sound level during the first part of the show when the clarinet was not on stage.
Remote Mixing
Instead of an iPad with the Yamaha StageMix app, a small netbook computer with Studio Manager was used to remote control the LS9-16, with a Griffin Powermate USB knob.
With the Studio Manager software our engineer was able to use the trackpad to set the mouse pointer on any on-screen knob and use the Griffin Powermate to control that virtual knob very precisely.  This allowed access a much wider range of controls than the iPad Stagemix application.
Gear List
Meyer Sound CQ-1 main speakers
MacPherson M2X balcony fills
Meyer Sound UPJ-1P monitors and front fills
Neumann KM184 cardioid condenser microphones
 Yamaha LS9-16 digital console with Studio Manager and Griffin Powermate
If you need sound reinforcement in Chicago, the Midwest, or Nationwide, please contact our General Manager, Jeff Cech, at 847.367.9588 or jc@tcfurlong.com. 
Photo Credits: Northwestern University/Pick-Staiger, Scott Helmke/TC Furlong Inc.