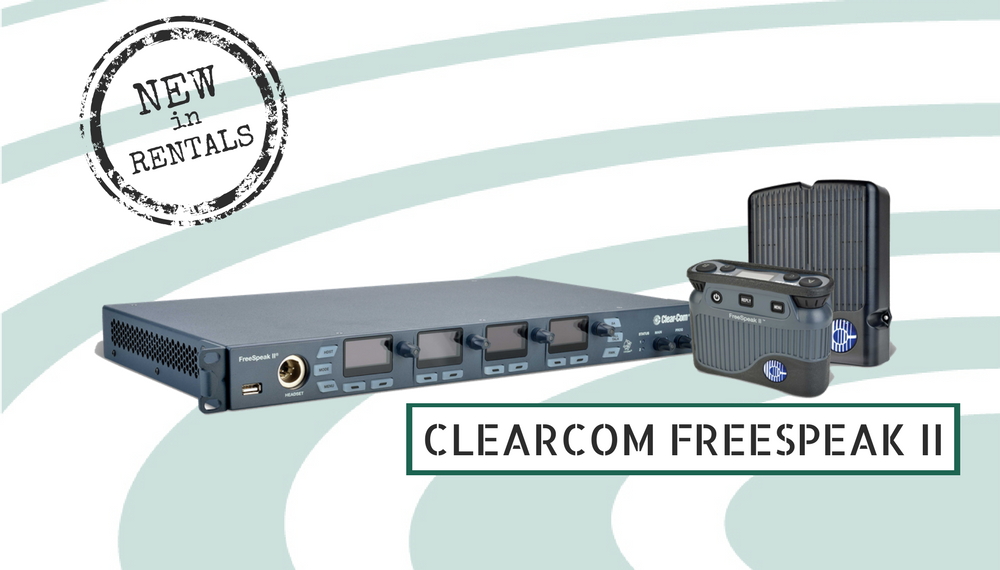 by Brian Grahn, Sales/Marketing
TC Furlong has just added a Clear-Com Freespeak II wireless intercom system to its extensive rental inventory of intercom products. Freespeak II is Clear-Com's high performance wireless solution for large-scale communications applications. Operating in the 1.9GHz frequency band, Freespeak II is the next generation in distributed wireless intercom.
The FreeSpeak II system comprises of the base station, beltpacks, transceiver antennas and splitter, and can be implemented as a standalone base station system or as an integrated wireless solution within a larger intercom system. Flexible cellular roaming technologies allow users to move freely between antennas without the worry of phasing or dropouts. The system provides point-to-point and group communication capabilities, in addition to the four channels of base station connectivity.
The FS-II-BASE-II is both a four channel intercom interface and wireless transceiver that can operate a mix of up to 25 1.9GHz and/or 2.4 GHz beltpacks on a single system. The base station can be used in Main Station mode with Talk and Call soft keys or as a Headset Station for communication and monitoring from the panel.The base station's digital displays allow easy system configuration directly from the base station or through the browser-based Core Configuration Manager tool.
The FreeSpeak II digital beltpacks feature five-channel, full-duplex communication and were designed for the demands of large-scale operations. The beltpacks are a similar form factor to the wired RS703 models and feature a rugged housing with four push-to-talk, one reply key and two rotary encoders that allow up to five communications routes to be assigned. These can be any desired combination of channel, group and point-to-point communication assignments. Large OLED display provides extensive information, including the names of beltpacks, assigned users and groups of each beltpack, battery level, and signal strength.
Clear-Com's FreeSpeak II is an extremely flexible wireless intercom solution that can easily augment the functionality of any intercom system. With a simple interface and easy connectivity, the FreeSpeak II wireless system will make any wireless communication a breeze.
For more information about adding our new Clear-Com FreeSpeak II system or any of our other wireless intercom products to your next rental, please contact our Rental Team at 847-367-9588 or rentals@tcfurlong.com.
TC Furlong also sells Clear-Com along with other major audio brands. For questions about purchasing a FreeSpeak II system or anything from our list of over 100 professional audio manufacturers, contact our Sales Team at 847-367-9588 or sales@tcfurlong.com.