By Oz, Sales/Marketing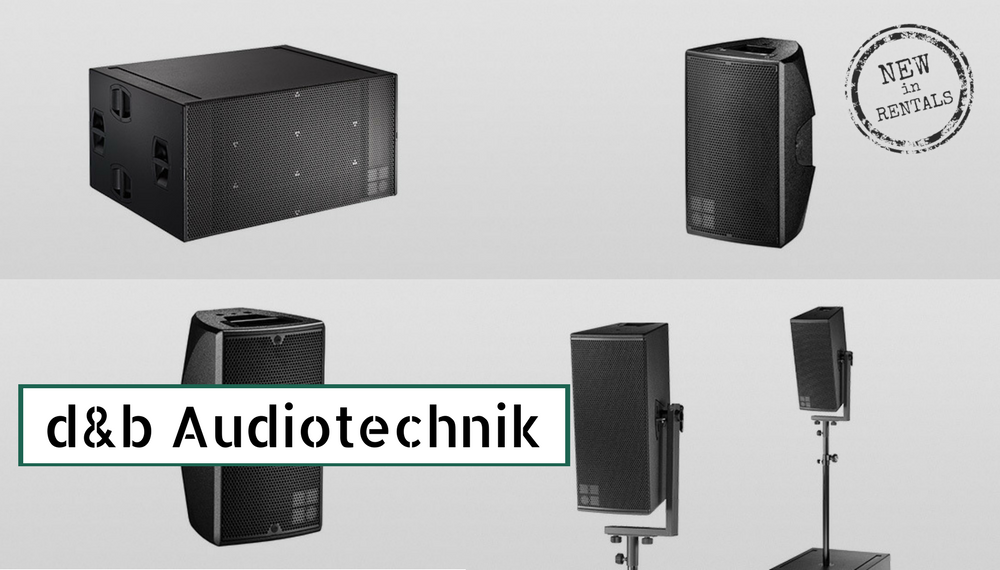 TC Furlong Inc. has been a longtime authorized sales dealer for d&B audiotechnik, and we recently added d&b speakers to our already extensive loudspeaker rental lineup. d&b is a premium brand known for their conventionally powered loudspeakers, consistent, great sound, and reliable products. With this addition, we are taking our first steps in furnishing a larger inventory of d&b loudspeakers and expanding our capabilities for rentals and shows.
Here's a quick breakdown of the speaker series' we added:
Y10P – Y series
The Y10P is a compact, 2-way passive point source loudspeaker that features two 8" drivers in a dipole arrangement with a 1.4" compression driver mounted onto a rotatable CD horn. The horn geometry combined with the bass-reflex port design delivers full bandwidth capabilities with an extended LF output. These point source, high performance cabinets offer 110° of horizontal directivity controlled down to 500 Hz, matched with vertical dispersion of 40°. The horn can be rotated by 90° to enable horizontal orientation. The Y10P provides a broad variety of deployment possibilities, especially when used as a stand-alone full range system, or combined with other elements from the Y-Series, either ground stacked or flown.
E6 & E8 – E series
The E6 loudspeaker is a relatively small high performance multipurpose loudspeaker, employing an integrated coaxial driver. The horn with its 100° x 55° dispersion pattern can easily be rotated through 90° providing a 55° x 100° pattern without the use of tools, allowing it to be used in a large variety of situations.
The E8 loudspeaker is a high performance 2-way multipurpose loudspeaker, employing an integrated coaxial driver. The E8 can be used for speech and music applications as a stand-alone full range system, or incorporated into larger distributed sound reinforcement situations. The 90° x 50° dispersion pattern of the horn is easily rotatable through 90° to provide a 50° x 90° dispersion pattern.
Both the E6 and E8 are available with a variety of mounting options.
B22-SUB – Subwoofer
The B22-SUB is a ground stack sub that houses two long excursion 18" drivers built into a bandpass horn cabinet design. With high Sound Pressure Levels and an extended frequency response, the B22-SUB is ideal for any large format sound reinforcement application.
If you are interested in adding d&b audiotechnik loudspeakers to your next rental or show, contact our rental team at 847-367-9588 or at rentals@tcfurlong.com
TC Furlong also sells d&b audiotechnik products, along with other major audio brands. For questions about purchasing any d&b audiotechnik loudspeakers or anything else from our list of over 100 professional audio manufacturers, contact our sales team at 847-367-9588 or at sales@tcfurlong.com