By Oz, Sales/Marketing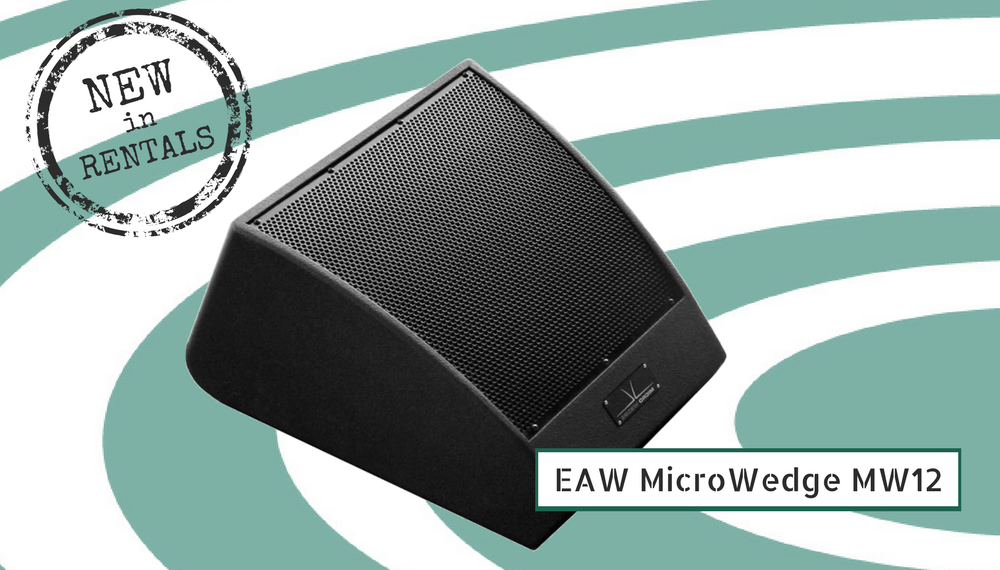 TC Furlong Inc. has added EAW MicroWedges to its extensive rental inventory of loudspeakers and monitor wedges. The EAW MW12s are coaxial monitor wedges pairing a 12-inch woofer with a 3-inch voice-coil compression driver. Together, these provide full yet controlled 90-degree conical dispersion.
The coaxial design means that all frequencies emanate from the same point, making crossover region problems and time/phase irregularities virtually non-existent. It also allows the wedge to have an incredibly low-profile footprint.
The MW12 wedge has selectable full range or bi-amped modes. The port on the front of the cabinet enhances LF response in coupling with the floor and houses both the carrying handle and passive/active mode switch, as well as two NL4 connectors. The concealed connectors allow the wedges to be placed as close together as desired. Additional cable can be stored in the port without impacting LF response.
The MW12 features:
Highly coherent coaxial design (12-inch woofer)
Enhanced fidelity and power handling
Upgraded transducers and crossover design
Switchable full range/bi-amp modes
Convenient input connector location
Sturdy balance for console bridge monitor use
Our intention with this investment is to expand our substantial inventory of passive, conventionally powered, full range wedges, and standardize on the MW12. TC Furlong Inc. also has upwards of fifty bi-amped and self-powered wedges in rental stock.
For more information about adding our new EAW MW12 MicroWedges to your next rental, please contact our rental team at 847-367-9588, or rentals@tcfurlong.com.
TC Furlong Inc. also sells EAW loudspeakers, as well as all other major audio brands. For questions about purchasing EAW MicroWedges or anything else from our list of over 100 professional audio manufacturers, contact our Sales Team at 847-367-9588 or sales@tcfurlong.com