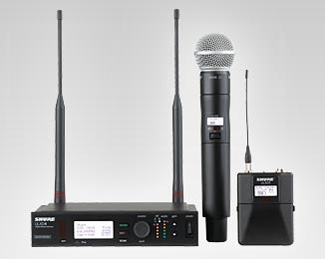 Shure's new ULX-D digital wireless microphone system offers outstanding audio clarity coupled with robust and efficient RF performance.
ULX-D also introduces several features new to the Shure wireless microphone line.
Clear and Accurate Audio Quality
All the bells and whistles in the world don't matter without outstanding audio quality.
ULX-D transmits 24-bit/48kHz digital audio for incredibly clear and accurate sound; and captures greater than 120 dB of dynamic range, for excellent signal-to-noise performance.
As with all Shure wireless lines, you can choose from a wide variety of Shure handheld capsules, from the SM58 to the KSM9.
Efficient and Reliable RF Performance
ULX-D is Shure's most efficient wireless system to date.
Up to 14 active transmitters can be placed in one 6 MHz TV channel – with over 60 compatible channels in a single frequency band.
And because the transmission is digital, there are no audio artifacts over the entire 100m line-of-sight range (using the included dipole antennas).
Advanced Power Options – SB900 Rechargeable Battery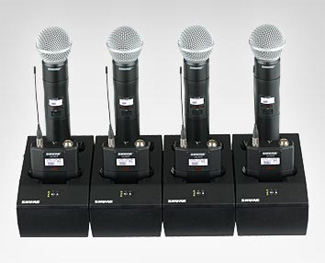 The new SB900 rechargeable batteries are adapted from the industry-leading Axient line.
These batteries feature lithium-ion chemistry and Shure battery circuitry that results in zero memory effect.  That is, the batteries can be recharged at any time – no need to completely discharge.  They can also either be charged in the transmitter (as shown in the picture) or on their own.
The SB900 offers more than 12 hours of battery life, and the transmitters and receivers display battery life in hours and minutes accurate to within 15 minutes.
The ULX-D line is also compatible with normal AA alkaline batteries.
Plus…
ULX-D also offers several new features, including:
Networkability, for use with Wireless Workbench 6 software
AES-256 encryption conforming to the US Government National Institute of Standards and Technology
Proprietary Shure Gain-Ranging optimized the system's dynamic range for any input source, eliminating the need for transmitter gain adjustments
Interference detection
Support for frequency coordination with the Axient Spectrum Manager
Now Available in Rental Stock
We recently added Shure ULX-D combo wireless systems to our rental stock.
These systems are compatible with our large inventory of accessories, including specialty antennas and RF distributors.
We also have a wide variety of handheld capsules and lavalier or headworn microphones.
Contact our Rental Manager, Chris Wintz, at cwintz@tcfurlong.com or 847.367.9588 with any questions or for a rental quote.