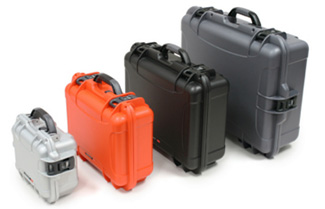 We are excited to announce that we are now authorized dealers for Nanuk Cases!
Nanuk cases are designed to protect the most sensitive equipment in the harshest environments—a perfect fit for the audio industry.  We've added several Nanuk Cases for use with our rental inventory, and are extremely satisfied with their feature set and real-world performance.  In particular, we appreciate that they are lighter-weight than comparable cases, resulting in lower shipping costs for our clients.
These virtually indestructible, lightweight, waterproof cases are offered in a variety of sizes, configurations, and colors.
Features include:
The ultra-secure "Powerclaw" latching system
Integrated attachment points for padlocks or straps
Stainless steel hardward
A stackable design
A lifetime guarantee
National and international certifications for impact resistance, drops, rainfall, immersion, and more
For more information about Nanuk Cases, visit their website at www.nanuk.com.
If you have any questions or would like a quote on these cases, please contact our Sales Team at 847.367.9588 or sales@tcfurlong.com.