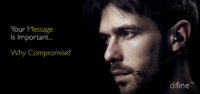 DPA microphones are the premium trusted source for high-quality audio, and here at TC Furlong, the d:fine series headsets are some of our favorites for head-worn audio. Our status as a DPA Platinum dealer means you can access these exceptional microphones at a great price. DPA is currently offering a rebate for all d:fine microphones to make your microphone upgrade even easier!
From now until November 30th, 2016, DPA is offering a $100 direct to consumer trade-in rebate when a customer purchases a new d:fine microphone.
Small and elegant in design, d:fine™ Headset Microphones are ideal for house of worship leaders, broadcast professionals, public speakers, singers and musicians who place importance on superior voice reproduction, comfort and easy setup. They come in a range of variants that can meet your particular needs. Common to all models is their superior sound quality, flexibility and durability.
d:fine Headset Microphones eligible for rebate:
FID – d:fine Directional Headset Mic
FIO – d:fine Omnidirectional Headset Mic
FID88 – d:fine 88 Directional Headset Mic
FIO66 – d:fine 66 Omnidirectional Headset Mic
Both single and dual-ear mounts, as well as all colors, boom lengths, and fixed connector types are part of the campaign.
How to earn your $100 rebate
Buy any DPA d:fine™ Headset Microphone between now and November 30th and receive a $100 rebate. To claim your $100 rebate, mail the completed rebate form and proof of purchase to the mail-in address provided on the back.
To be eligible, the d:fine™ Headset Microphone must be purchased from an authorized US dealer between October 10, 2016 and November 30, 2016. Additionally, the form and proof of purchase(s) must be postmarked no later than December 16, 2016.
Full terms and conditions can be found on the rebate form, available here.
If you have any questions, or would like a quote on a DPA d:fine microphone, please contact our Sales Team at 847.367.9588 or sales@tcfurlong.com.