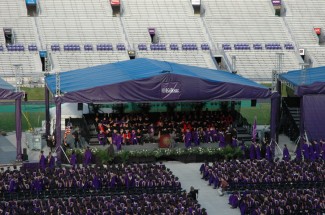 One of our important annual events is providing a full production support package to Northwestern University's annual graduation ceremonies, including sound, lights, video, power generation, and remote TV production for several inter-related graduation facilities.
An element added this year was large-format LED displays to provide image magnification in their 45,000-seat open-air football stadium.
The biggest challenge of providing this technology in this setting was satisfying a matrix of competing and dynamic requirements—safety, image size, resolution, cost, weight, aspect ratio, size and weight of the support structure, and engineering demands given predicable wind speeds.  In the end, the most time consuming aspect was finding, moving and supporting the concrete ballast required by our Structural Engineer to meet the other requirements.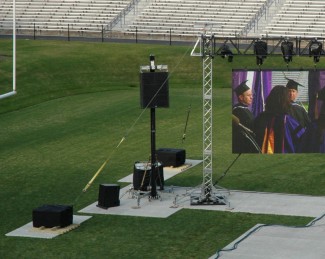 The ballast was fabulous but the sound was even better.
Sometimes it's more about the concrete (or the pipe and drape, or the up-link) than it is about the sound system.  While our specialty is audio and our mantra is Better Audio By Design, you can rely our experienced Project Managers to help you navigate any production challenge that comes your way.
Gear Highlights
Loudspeakers – Danley Sound Labs JH90; Meyer Sound MSL-4, UPJ-1P; KV2 Audio EX10T; Macpherson M2X, M12X, PC12; EAW JF-80
Ballast – Readymix of Munster, IN
Mixing Consoles – Yamaha PM5000
Loudspeaker Management – Meyer Sound Galileo 616
Outboard Processing – BSS DPR901 II; Lexicon PCM-91; Klark-Teknik DN360B, DN504, DN405; Drawmer DS404; Yamaha SPX990
Wireless – Shure UHF-R
Microphones – Countryman Isomax IV; Beyerdynamic M88TG; Sennheiser e905, MD421; Shure Beta57A, Beta87A, SM87
Assistive Listening – Listen Technologies LT800, LR400
Intercom – Telex BTR-800; ClearCom CS-222, RS-601
Power Distribution – Motion Laboratories
TC Furlong's Live Events Division is a full-service "one-stop production shop" serving event planners and producers that need more than just high-quality audio equipment.  Every day we are called upon to coordinate details such as backline, lighting, video, rigging, staging, power distribution, tenting, decor, artist ground transportation, remote recording/production trucks, satellite up-link, webcasting, or just about anything required to produce an important event.
For more information about our Live Events Division, contact Jeff Cech at 847.367.9588 or jc@tcfurlong.com.