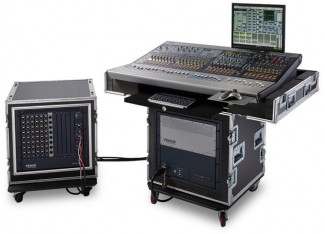 Going on the road for a few months?
Does your band require not only top-notch equipment, but also all the pieces and accessories to handle any situation the tour might throw at you?
This is exactly the challenge A Sound Choice brought to TC Furlong when asked to do Ministry's upcoming US and European Tour.
Here's what A Sound Choice's President, Mike Gotshall, had to say:
As a small audio company, I sometimes need additional support to accommodate the needs of my clients.

I've worked with Ministry for many years, and when asked to provide an audio package for their upcoming international tour, I called TC Furlong to help provide the additional equipment that my company doesn't have in its inventory.

I've worked with TC Furlong for many years subrenting equipment that I need to complete or enhance riders provided to me by my clients.  The equipment is always in good working order, and the staff at TC Furlong is always willing to help and offer solutions to my requests.

The Ministry tour took several meetings, phone calls, and emails to provide a system that the artist requested.  Working as a team, we were able to provide 3 separate Monitor and FOH packages to serve Ministry's rehearsals, US tour leg, and European tour leg.

This helped me keep costs down for my client while still providing the gear needed for each part of the tour.

I can't thanks TC Furlong enough for all the help and support in putting the Ministry Diffibrillatour 2012 together.
The US leg included dueling DigiDesign Profiles at FOH and monitors, with the FOH desk outfitted with a premium Waves plug-in package and DigiDesign HDx card for ProTools interface.
For the band's European dates, a more fly-ready approach was taken, including critical outboard equipment and a mic package including Shure, Sennheiser, and Audio Technica elements.
Fast setup and strike times were aided by custom racking and equipment packages including Radial Pro D8s, Eventide effects processing, and XTA speaker management.
Gear Highlights
If you need help with your next tour, contact our Rental Manager, Chris Wintz, at 847.367.9588 or cwintz@tcfurlong.com.