by Luke Walchuk, TC Furlong Project Manager and Audio Engineer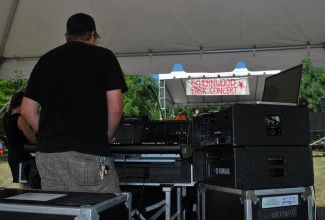 The first digital mixing console that I ever used extensively was the Yamaha M7CL.
There is always some feeling of intimidation when one has to work with new technology, and I admit I was nervous about going digital.  However, I found the M7 (as it is known to its friends) to be an extremely friendly board.  I dug right in, and within the first two days I was using it as comfortably as I'd used any analog console.
Since then I've gotten my hands on many different digital boards, but the M7 has remained a favorite.  The flexibility of the CentraLogic section, coupled with the quick and easy access to everything via the touch screen, fit my workflow.
This past weekend I had the opportunity to take Yamaha's newest desk, the CL5, out for a spin.  The gig was a neighborhood concert in a park featuring four local bands of the "weekend warrior" variety, and kicked off by performances from local kids ranging in age from about 8 to 16.  The show was casual, low-pressure, and only slightly chaotic—a perfect opportunity to test-drive a new console.
The Verdict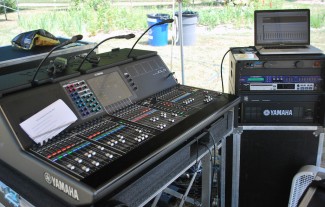 For a fan of the M7CL like myself, the CL5 was an absolute dream.
The CL5 has the same software as the M7, along with the CentraLogic section – 8 faders in the middle of the console that can be assigned to any channel.
Beyond that, all of the other faders on the console can be customized as well.
Using the CL5's custom fader banks you can mix-and-match input and output channels, stereo and mono inputs, effects returns and mix buses, in nearly any combination you can imagine.
With a festival-style show that involved quick changeovers with no soundcheck, this afforded the flexibility to get everybody up and running very quickly.
Digital Snake with CL5 and Rio Boxes
In addition to having a great mixing experience, I was able to replace 150' of 32-channel copper snake with a single Cat5 cable running to a Rio3224-D on stage.
The CL5 and the Rio box, running on Audinate's Dante network, work together seamlessly.  The console boots up with default input patching, and the network can be configured right from the console; there is no need for a computer.  With a little prior preparation of my show file, I was able to power up the board and the Rio and start making noise right away.
It's still young, and there are plenty of little things that could improve its performance, but overall the CL5 is a big hit with me.
Easy to learn, quick to set up, and a real pleasure to use, the CL5 combines the best features of the M7CL, the LS9, and the PM5D in a relatively compact package.
Gear Highlights