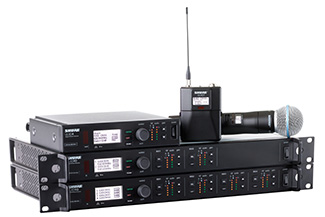 We recently expanded our already robust rental inventory of  Shure ULX-D wireless microphone systems with 18 additional channels in the G50, H50 and L50 bands. All 18 channels are full combo systems (1 handheld and 1 bodypack per receiver channel) with a mix of dual and quad receiver configurations.
"ULX-D sounds fantastic and is outstanding in terms of spectral efficiency," said our Rental Manager, Chris Wintz. "We're finding we're able to squeeze multiple channels in pockets of available RF that are too small for other wireless microphone technologies."
This new acquisition brings our total wireless microphone channel count to well over 100 channels in 10 different platforms including  Shure Axient, UHFR, ULXD, UHF, and ULXP; Lectrosonics 400 series; Sennheiser 2/3/5K series and Evolution series.  We also has a deep inventory of wireless IEM, intercom, IFB, and Point:Point systems.
In addition to having well-maintained RF systems at every level and price point, we stock a vast array of capsules, mic elements, specialty antennas, antenna distribution, RF filters, low loss cable, RF spectrum analyzers, and other RF components.  More important than our gear is our  team's wealth of RF expertise and experience.
Call Chris Wintz or anyone on the Rental team at 847-367-9588 or rentals@tcfurlong.com for more information about our wireless systems or for a rental quote.